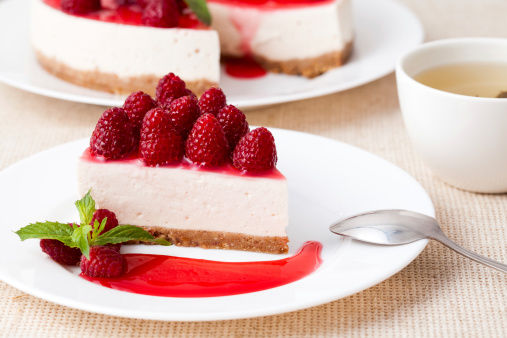 New York Style Cheesecake with Raspberry Drizzle
Ingredients:

For the crust:  2 1/4 cup Graham Cracker Crumbs, 1/2 c butter or margarine melted
For the filling:  2 eggs, 1/2 cup sugar, 1 tsp vanilla, 16 ounce cream cheese, softened, 1/4 cup sour cream and a dash of salt
Directions:
1.  Combine graham cracker crumbs and butter, press into buttered 8 inch pie plate to form crust on bottom and sides.
2.  In a mixing bowl, beat cream cheese and sour cream until fluffy.  Gradually add in sugar, salt and vanilla.
3.  Add eggs, 1 at a time mixing well after each addition.  our filling into crust.
4.  Bake at 325 for 25 to 30 minutes or until set.
Let cool then to serve, drizzle with warm raspberry jam.  Garnish with fresh raspberries and mint leaves if desired.
Enjoy!