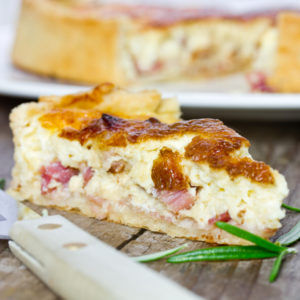 Quiche Lorraine Recipe
1 Frozen Deep Dish Pie Crust
6 ounces thick cut bacon, cut into small pieces
(ham can be used instead)
2 large eggs
2 large egg yolks
1 1/4 cups half-and-half
1/4 teaspoon salt
1/4 teaspoon ground white pepper
Pinch freshly grated nutmeg
1 1/2 cup grated Gruyere cheese
Preheat oven to 375 degrees. Heat frozen pie crust for 10 to 12 minutes.  Let cool slightly while making the egg mixture.
Cook bacon in microwave in between paper towels until crispy. Cut into small pieces.
Arrange the bacon evenly over the bottom of the baked crust.
In a large bowl, beat the eggs, yolks, and half and half. Add the remaining ingredients and whisk to combine. Pour into the prepared crust and bake until the egg is golden, puffed, and set yet still slightly wiggly in the center, 30 to 35 minutes.
Remove from the oven and let cool on a wire rack for 15 minutes before serving.
Great for breakfast or add a salad to have a simple lunch or dinner.