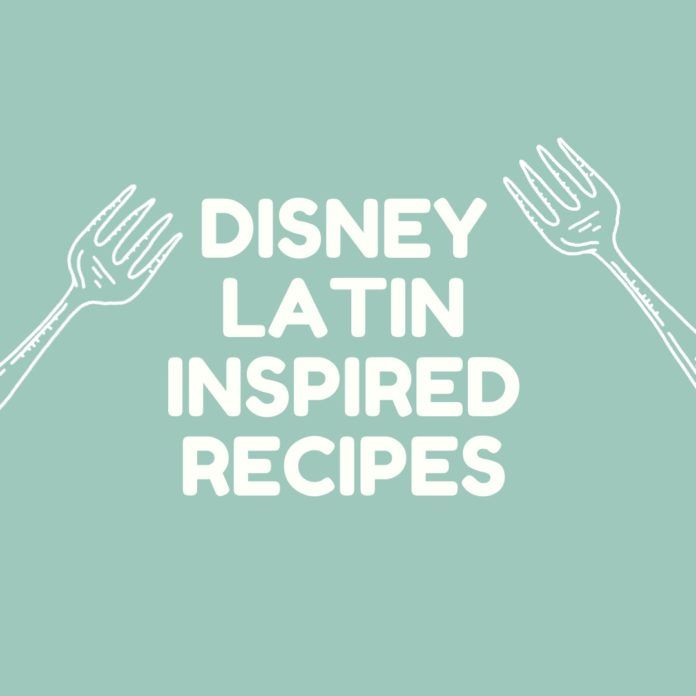 From Epcot to resort hotels, Disney offers guests a variety of cuisines from all over the world.
Here are some Disney Latin inspired recipes you can try at home. You can also check out some amazing Disney cruise line recipes as well.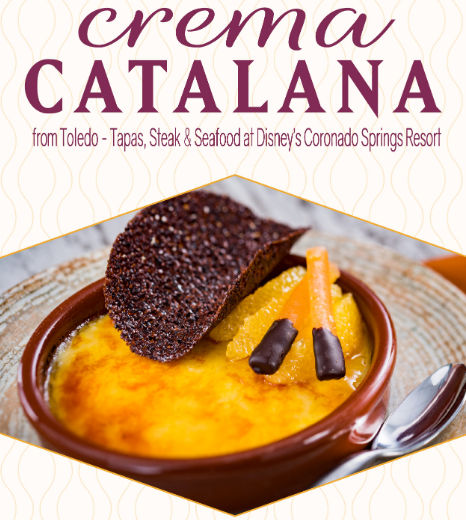 This is a great dessert, and it's also gluten free! I do want to mention that this is not something for beginners. If you have made creme brulee before, then youa re ready for this.
Ingredients:
1 small lemon
3 cups 2% milk
1/2 vanilla bean
1 cinnamon stick
3/4 cup sugar, divided
6 egg yolks
1/3 cup cornstarch

Topping:
6 tblsp sugar, divided
Orange zest
Instructions:
1. Peel lemon. Place lemon peels in a medium saucepan with milk. Split vanilla bean in half & scrape seeds into milk. Add cinnamon stick & 1/2 cup sugar.
2. Cook over medium heat, stirring constantly, until milk reaches temperature of 200F. Remove from heat & cover. Steep at room temperature for 2 hours.
3. While milk is cooling, whisk together egg yolks, cornstarch & remaining 1/4 cup of sugar together until smooth. Refrigerate until ready to use.
4. Strain cooled milk mixture into a clean saucepan & bring to a boil over medium to low heat. Turn off heat.
5. Slowly whisk 1/2 cup of hot milk mixture into egg yolk mixture to temper the eggs. Strain egg yolk into milk whisking constantly. Turn heat to low & cook, whisking constantly for 5 minutes, until thick. Remove from heat.
6. Place 4 ounces of custard into clay ramekins. Refrigerate for 2 hours.
7. To serve, sprinkle 1 tbls sugar on top of each Crema Catalan. Caramelize using butane culinary torch.* Garnish with orange zest.

*Chef notes: If you do not have a culinary torch, you may caramelize in the oven, but make sure you have oven-proof ramekins or cookware. Preheat oven to high broil. Place chilled Crema Catalana ramekins on baking sheet. Broil 3 to 5 minutes. Monitor closely until sugar has melted & a crispy, brown crust is formed.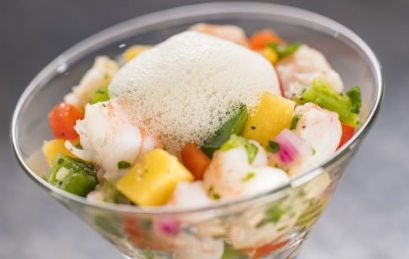 Shrimp Ceviche with Lime-Mint Foam
Serves 4
Shrimp Ceviche
2 cups diced cooked shrimp (about 2/3 pound)
1/2 cup diced red onions
1/4 cup diced green pepper
1/4 cup diced red bell pepper
1 jalapeno pepper, seeded and diced
1/4 cup thinly sliced green onions
1/4 cup orange juice
1/2 cup lime juice
1 tablespoon sugar
1/2 cup diced mango
1/4 cup chopped cilantro
Salt, to taste
Black pepper, to taste
Lime-Mint Foam
1/2 cup water
1/2 cup lime juice
1 teaspoon soy lecithin
1 tablespoon sugar
1/2 cup chopped fresh mint
For Shrimp Ceviche:
1. Combine shrimp, red onion, green pepper, red pepper, jalapeno, and green onion in a glass mixing bowl.
2. In a small bowl, combine orange juice, lime juice, and sugar. Stir until sugar is dissolved. Pour over shrimp mixture.
3. Add mango and cilantro and stir to combine. Season with salt and pepper to taste.
4. Set aside.
For Lime-Mint Foam:
1. Combine water, lime juice, soy lecithin, sugar, and mint in a large mixing bowl.
2. Whip using a whisk or immersion blender until foam develops on the top. Allow to stand for 1 minute.
To Serve:
Evenly divide ceviche among 4 bowls. Spoon 2 tablespoons lime-mint foam on top of ceviche.

Disney Horchata Recipe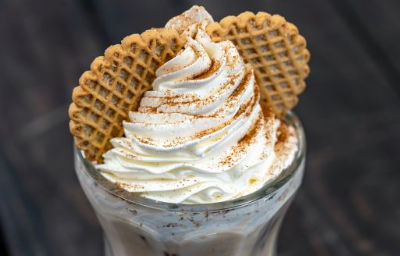 The recipe below is for our house-made non-alcoholic Horchata, topped with a Mexican cinnamon galleta.

Serves 1 to 2

Rice Base
2 cinnamon sticks
1 cup jasmine rice
2 cups filtered water
Horchata
¾ cup whole milk
¾ cup condensed milk
¾ teaspoon vanilla syrup
¼ cup water
Garnish
Dollop whipped cream
Pinch of ground cinnamon
1 Mexican cinnamon galleta (cookie)
Directions:
For rice base:
Combine cinnamon sticks, jasmine rice, and water in container and cover with lid.
Allow to sit, in the refrigerator, overnight or for a minimum of 8 hours to ensure cinnamon sticks and rice are softened.
Blend and strain through cheesecloth and set aside.
For Horchata:
Combine whole milk and condensed milk in large container and stir in rice base. Add vanilla syrup; stir.
Add ice to serving cup and pour Horchata over ice.
Garnish with whipped cream and sprinkle cinnamon on top.
Cut Mexican cinnamon galleta in half and place on whipped cream to create Mickey "ears."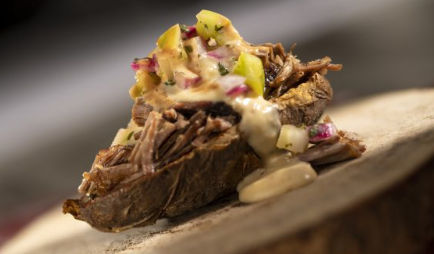 Smoked Brisket with Chorizo-Cheese Fondue
Serves 6

Beef brisket overnight barbeque rub
1/2 cup brown sugar
1/4 cup coarse salt
1 1/2 tablespoons chili powder
1 tablespoon paprika
1 tablespoon onion powder
1 tablespoon garlic powder
1 tablespoon black pepper
1/2 tablespoon ground coriander
1/2 tablespoon ground cumin
1 teaspoon dried oregano
2 1/2 pounds beef brisket
1 tablespoon liquid smoke (only if using oven preparation method – see Cook's Notes below)
Chorizo-cheese fondue
1/2 pound ground chorizo
1/4 cup diced onions
1 1/2 tablespoons butter

2 tablespoons all-purpose flour
2 cups heavy cream

1/4 teaspoon salt

1/4 teaspoon white pepper

1/4 teaspoon tabasco sauce

8 ounces Monterey jack cheese, grated

4 ounces gruyere cheese, grated

Green tomato salsa
1 green tomato, diced

1/4 cup diced red onion

1 teaspoon minced serrano pepper

1 tablespoon chopped cilantro

1 tablespoon fresh lime juice

1 teaspoon white vinegar

2 teaspoons olive oil

1/8 teaspoon salt

1/8 teaspoon pepper

Barbeque Drizzle
1/8 cup of your favorite barbeque sauce

1/8 cup mayonnaise

1/2 teaspoon of your favorite pickle juice

Potato Boat
For beef brisket overnight rub:
Mix all dry ingredients together in medium bowl until fully combined.

Generously rub brisket with dry rub, wrap tightly in plastic wrap; place in pan or container and refrigerate overnight.

Next day, remove plastic wrap and place brisket in smoker at 250˚ for 8 hours or until internal temperature reaches 210˚. (For oven preparation method, see Cook's Notes below.)

Allow meat to rest for 10 minutes.

Shred brisket and keep warm with foil.

For chorizo-cheese fondue:
Cook chorizo, onions, and butter in medium pot over medium heat, being careful not to burn.

Add flour and stir constantly for 3-5 minutes to ensure the flour taste has been cooked out.

Add cream, salt, and pepper; bring just to a simmer and reduce heat to low.

Simmer for 8-10 minutes, stirring occasionally until thickened and mixture coats the back of the spoon.
Add tabasco; stir to combine.
Add cheeses slowly, stirring until completely melted.

Keep warm or reheat at serving time.

For green tomato salsa:
Combine all ingredients in small bowl.

Let stand for at least 1 hour, allowing flavors to incorporate.

For barbeque drizzle:
Combine all ingredients in small bowl.

Refrigerate for at least 1 hour, allowing flavors to incorporate.

For potato boat:
Bake potatoes in a preheated 350˚ oven until almost tender, approximately 25-30 minutes.

Cut potatoes in half length-wise and scoop out half of the center, creating a boat shape. (Reserve potato pulp for other uses or recipes.)

Return potato boats to the oven and bake until golden brown, approximately 10 minutes.

For plating:
Place one potato boat on each plate.

Generously fill each boat with shredded beef brisket.

Pour 1/4 cup chorizo cheese fondue sauce over brisket filled boat.

Top with 2-3 tablespoons green tomato salsa.

Garnish with drizzled barbeque sauce.

Cook's Notes:
If you do not have a smoker, the oven method works just as well. Before refrigerating overnight, sprinkle liquid smoke over rubbed brisket. Next day, loosely but completely wrap brisket in heavy duty foil and place in a baking pan. Bake in a 230˚ oven for 8 hours or until internal temperature reaches 210˚. There will be leftover chorizo cheese sauce, it is so delicious be sure to have it handy when guests ask for more sauce!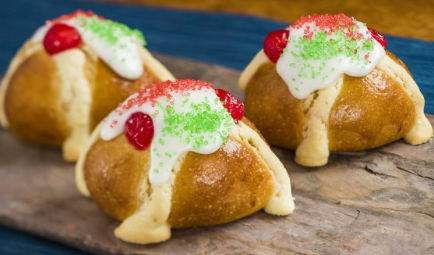 Three Kings Bread

Here's the recipe for the Three Kings Bread so you and your family and make it and enjoy it at home! It is often served during the Feast of the Three Kings each year along with roasted pork, mashed yucca, tamales & green plantains.
Makes 16
DOUGH
4 eggs
1/4 cup water
1/3 cup sugar
4 tablespoons butter, at room temperature
4 tablespoons shortening
1/8 teaspoon salt
Zest of 1 orange
1 teaspoon vanilla extract
3- 3 1/2 cups bread flour
4 teaspoons instant yeast
SUGAR PASTE
1/2 cup shortening
1/3 cup sugar
1/2 cup cake flour
1 egg
GLAZE
1 1/2 cups powdered sugar
3-4 tablespoons milk
2 teaspoons vanilla extract
FINISHED BREAD
1 egg
16 Maraschino cherries, chopped
Red and green sugar
FOR DOUGH:
1. Place the eggs and water in the bowl of an electric mixer fitted with a dough hook.
2. Add the sugar, butter, shortening, salt, orange zest, vanilla, and 3 cups of the bread flour to the mixing bowl. Sprinkle instant yeast on top of the flour.
3. Knead on medium speed for 12 minutes, until soft dough forms. Dough will be slightly sticky. If dough is not soft after 12 minutes, add 1/4 cup of flour at a time and knead for 1 additional minute.
4. Portion the dough into 16 balls on two baking sheets lined with parchment paper. Cover and let rise in a warm place for 1 hour, until doubled in size.
FOR SUGAR PASTE:
1. Cream shortening, sugar, and cake flour in the bowl of an electric mixer fitted with a paddle attachment.
2. Add egg and mix, making sure to scrape the sides of the bowl, until well blended.
3. Set aside.
FOR GLAZE:
1. Whisk powdered sugar, 3 tablespoons of the milk, and vanilla extract together until smooth.
2. Add additional tablespoon of milk, if needed.
3. Set aside.
FOR THREE KINGS BREAD:
1. Preheat oven to 325°F.
2. Beat egg and brush on top of dough.
3. Pipe the sugar paste in an "x" over the top of the balls of dough.
4. Bake for 15-20 minutes, until golden brown.
5. Cool for 15 minutes and top with glaze.
6. Sprinkle red and green sugar and chopped maraschino cherries on top of glaze.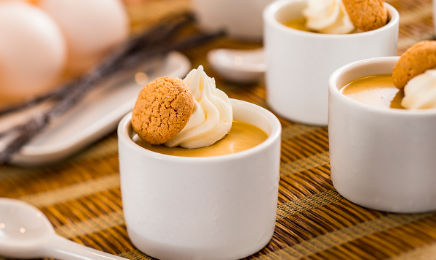 Amaretto Flan
Serves 6
1 extra large egg
4 extra large egg yolks
1/2 cup sugar
3 cups heavy cream
1/2 teaspoon vanilla extract
1/4 teaspoon almond extract
2 tablespoons amaretto liqueur
White Chocolate Whip
1 cup heavy cream
1/2 cup white chocolate chips
For Serving
6 amaretti cookies
For Amaretto Flan:
Preheat oven to 300°F.
Mix egg, egg yolks, and sugar in the bowl of an electric mixer on low speed for 1 minute, scraping sides of bowl until combined.
Scald heavy cream in a medium saucepan over medium heat for 6 to 8 minutes; do not boil.
Slowly add hot cream to eggs with mixer running on low speed.
Mix in vanilla extract, almond extract, and Amaretto.
Pour flan into six 6-ounce ramekins. Each ramekin should have 2/3 cup of flan.
Place ramekins in a baking pan. Carefully pour boiling water into pan until it reaches halfway up sides of ramekins. Bake 35 to 40 minutes, until the flans are set when gently shaken.
Remove from oven and remove ramekins from water. Cool for 4 hours or until room temperature. Refrigerate for 8 hours, or until flan is firm.
For White Chocolate Whip:
Heat heavy cream to boiling in a small saucepan over medium heat for 2 to 3 minutes.
Remove from heat and add white chocolate chips, whisking constantly until melted.
Refrigerate for 8 to 24 hours.
To Serve:
Whip cooled cream and white chocolate in bowl of an electric mixer on high speed for 2 to 3 minutes, until soft peaks form.
Top each flan with 2 tablespoons of white chocolate whip and serve with amaretti cookies.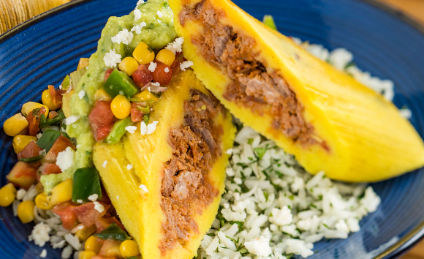 Tamales
Here's the recipe for the tamale so you can prepare it en casa (makes 12 tamales):
Beef Filling
1 medium onion, diced
1 green bell pepper, diced
1 cup beef broth
1 (15 ounce) can diced tomatoes, drained
2 cloves garlic, minced
2 tablespoons tomato paste
1 teaspoon onion powder
1/2 teaspoon ground cumin
1/2 teaspoon chili powder
1 teaspoon dried oregano
1 1/2 teaspoon ground coriander
1/4 teaspoon ground cayenne pepper
2 teaspoons salt
2 pound beef chuck roast or brisket
Tamales
12 dried corn husks
1 3/4 cup masa flour
1/4 cup lard or vegetable shortening
1/2 tablespoon salt
3/4 teaspoon baking powder
1-2 cups warm beef stock
Corn salsa
1 cup frozen corn, thawed
1 medium tomato, diced
1/4 cup diced red onion
1 jalapeno, seeded and diced
1/4 cup diced green pepper
1/4 cup lime juice
1/4 cup chopped fresh cilantro
1 teaspoon salt
1/4 teaspoon ground black pepper
Cilantro lime rice
1 1/2 cups water
1 cup basmati rice
1 teaspoon salt, divided
1/4 cup chopped fresh cilantro
2 tablespoons lime juice
Avocado crema
1 avocado, diced
1/2 cup sour cream
1/4 cup chopped fresh cilantro
1 teaspoon salt
2 tablespoons lime juice
For beef filling:
Place onions, peppers, diced tomatoes, and beef stock in the bottom of a slow cooker.
In a small bowl, mix garlic, tomato paste, onion powder, ground cumin, chili powder, dried oregano, ground coriander, cayenne pepper, and salt to form a paste.
Rub paste on all sides of the roast. Place in slow cooker.
Cook on low for 8 hours, until beef shreds easily with a fork.
Shred the beef and stir with vegetables and liquid. Set aside to cool.
For tamales:
Place corn husks in a large bowl. Cover with boiling water and soak for 2 hours. Drain and set aside.
Place masa flour, lard, salt, and baking powder in the bowl of an electric mixer fitted with paddle attachment. Mix on low speed until lard is evenly distributed throughout the masa.
Add warm beef broth, 1/2 cup at a time, until mixture resembles smooth mashed potatoes.
Place one corn husk, concave side up on a plate. Place 2 heaping tablespoons of the masa flour mix in the center of the corn husk. Press with fingers to evenly layer, keeping dough about 1/2 inch from the sides and 2 inches from the top and bottom of the corn husk.
Place one level tablespoon of the beef filling in the center of the dough.
Bring the sides of the corn husk up to meet, pinching the dough to seal, then roll into a cylinder, folding the bottom and top towards the seam.
Place tamale seam side down in a steamer basket. Repeat with remaining corn husks, making sure not to have more than 2 layers of tamales.
Add a few inches of water to a large stock pot. Bring to a boil, then reduce to a simmer. Place steamer basket inside of pot. Steam tamales for 90 minutes, checking occasionally to see if more water is needed, until tamales start to separate from the corn husk. Set aside.
For corn salsa:
Combine corn, tomato, red onion, jalapeno, green pepper, lime juice, cilantro, salt, and pepper in a medium bowl.
Set aside.
For cilantro lime rice:
Bring water to a boil in a medium saucepan. Add rice and 1/2 teaspoon salt, return to a boil. Reduce heat to medium.
Simmer uncovered for 12 minutes, until water is absorbed and rice is tender.
Stir in lime juice and cilantro. Add additional 1/2 teaspoon of salt, if needed.
For avocado crema:
Place avocado, sour cream, cilantro, salt, and lime juice in a food processor. Blend until smooth.
Set aside.
To serve:
Evenly divide rice among 4-6 plates. Unwrap tamales and place on top of rice. Top with corn salsa and avocado crema.
Arroz Con Pollo
Ingredients
8 chicken drumsticks
1⁄4 cup olive oil
1 cup yellow onion, small dice
1 cup red bell pepper, cubed
2 teaspoons salt
1 teaspoon ground black pepper
1 teaspoon ground cumin
1 teaspoon ground oregano
1 tablespoon garlic, minced
1 can (14.5 ounces) petite diced tomatoes
1 tablespoon vinegar
1 tablespoon cilantro, chopped
2 cups uncooked long grain rice
2 cups water
1 teaspoon achiote powder
1⁄2 cup Spanish olives (Manzanilla), chopped
1 tablespoon capers
Directions 

Season the chicken with salt and pepper to taste.
Brown the chicken in a large pot (medium high heat) with 2 tablespoons of oil.
Remove the chicken and set aside.
Bring heat down to medium and add remaining olive oil.
Cook onions and peppers until translucent.
Season by adding salt, pepper, cumin, oregano, and garlic and cook for 1 more minute.
Add tomatoes, vinegar and cilantro and stir to combine all the ingredients.
Stir in rice and keep stirring until the rice is covered and soaks all the juices (approximately 2-3
minutes).
Pour in water and continue to stir, adding achiote powder, olives and capers.
After all ingredients are well combined, adjust with salt to taste.
Once flavors are to your liking cover the pot and bring heat to low.
Cook for 30-40 additional minutes.
Tres Leches Cake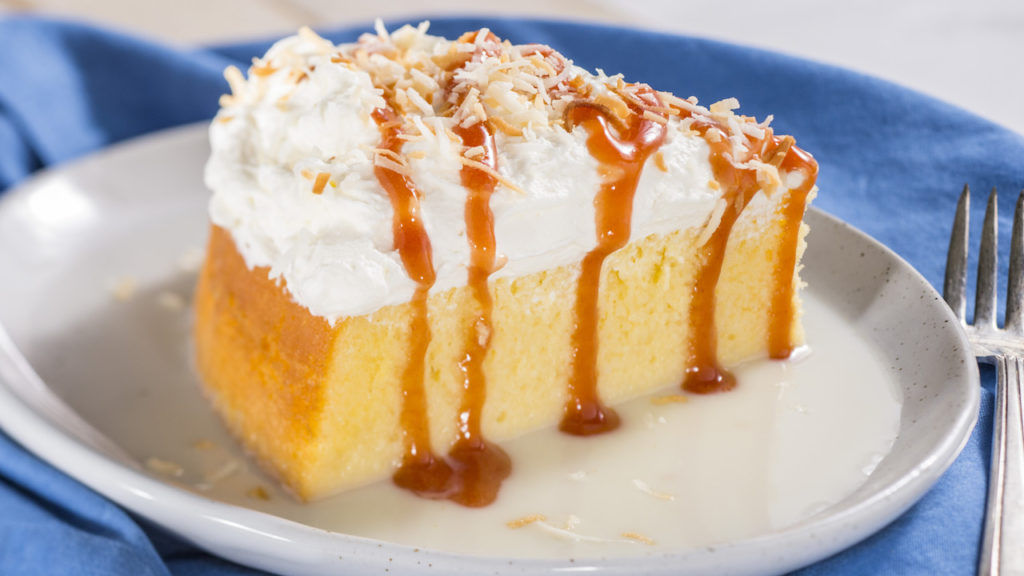 CAKE
1 1/2 cups pastry flour
2 tablespoons baking powder
8 large eggs, yolks and whites separated
1 cup sugar, divided
1/4 teaspoon cream of tartar
Whipped cream, toasted coconut, for topping
SYRUP
14-ounce can sweetened condensed milk
1 cup heavy cream
1 1/2 cups coconut milk or evaporated milk
1/4 cup white rum
GUAVA SAUCE
8 ounces guava paste
1 cup warm water
FOR CAKE:
1. Preheat oven to 350°F. Grease and flour 10-inch cake pan and set aside.
2. Sift together flour and baking powder in a small mixing bowl.
3. Place egg yolks and 1/2 cup sugar in bowl of standing mixer with wire whisk. Whip on high speed to thick, light ribbon stage.
4. Remove from mixer, pour liquid into large mixing bowl and set aside. Clean bowl of standing mixer.
5. Place egg whites in bowl of standing mixer with wire whisk and beat until foamy. Add cream of tartar and remaining 1/2 cup sugar. Whip on medium speed until whites are glossy and stiff, but not dry.
6. Remove bowl from mixer and fold one-third of egg whites into whipped egg yolks. Repeat until all egg whites are incorporated.
7. Sprinkle one-third of sifted flour over batter and fold in. Repeat until all flour is incorporated. Pour into prepared cake pan and bake until golden brown and spongy, about 30 minutes.
8. Remove cake from oven and place pan on wire rack. Soak with syrup while cake is warm, repeating until cake is thoroughly saturated.
9. Ice cooled cake with whipped cream. Sprinkle with coconut and drizzle guava paste. Refrigerate until ready to serve.
FOR SYRUP:
1. Mix all ingredients in medium bowl.
FOR GUAVA SAUCE:
1. Place guava paste in bowl of standing mixture fitted with paddle attachment. Beat on low speed to break down guava paste, increasing speed if necessary. Slowly add warm water until sauce is thin enough to drizzle.