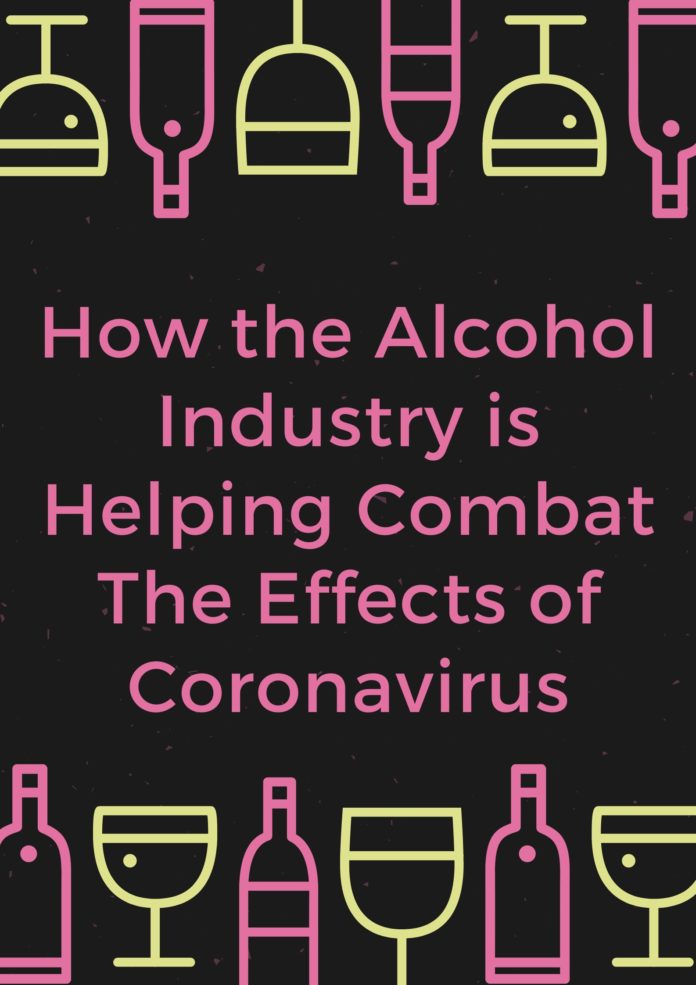 Life has certainly been different the past 4 to 6 weeks for most of the world. Living rooms and bedrooms have been converted to offices and classrooms. Social gatherings are limited to online hangouts, and simple things like trips to the grocery store are less frequent.

We think its important to share the companies that are stepping up and making a difference during difficult times in our country.
Here is How the Alcohol Industry is Helping Combat The Effects of Coronavirus
Anheuser-Busch
The company started with a $5 million dollar donation to help the American Red Cross blood drivers across the country. As part of the donation, Anheuser-Busch will donate media air time to the Red Cross in support of their public service announcements. To learn more about how to attend a blood drive, visit RedCross.org. They have also started the production of hand sanitizer and will work with the Red Cross to deliver them to communities in need.

Bacardi
Bacardi is the world's largest privately-owned spirits company & is based in Bermuda. They recently launched a $3 million #RaiseYourSpirtis initiative to support bars & restaurants. This is in addition to the $1 million dollars already pledged by Patron last week. "Some organizations we work with are: Another Round, Another Rally; CORE; the James Beard Foundation; the Restaurant Workers' Community Foundation; and Tales of the Cocktail."

Brown-Forman
American-based maker of popular brands including Jack Daniels and Woodford Reserve announced they are donating $1 million to COVID-19 respond funds including money to the Restaurant Workers' Community Fountain Relief Fund.
Miller Lite
This American beer company begin a campaign to raise money for out of work bartenders #VirtualTipJar". They also donated $1 million dollars to help restaurants around the country that have been closed due to the virus.

Guinness
Guinness pledged half a million dollars through its Guinness Gives Back fund to help local communities. The Irish beer company also pleaded 1.5 million Euros to support Irish bar staff and elderly citizens.

Jameson
The Irish whiskey brand contributed $500,000 to the United States Bartender's Guild. The company also launched the #LoveThyBartender campaign aimed to show further support for affected bartenders.
Tito's Vodka
Currently American's best-selling vodka, announced its plans for a $2 million donation to organizations that are providing assistance to those affected by the pandemic. The brand stated, "We are making an immediate donation of $1 million between four organizations focused on those in the service industry—CORE, USBG Foundation, Southern Smoke, and World Central Kitchen—and will fund an additional $1 million as we uncover further needs stemming from the COVID-19 pandemic."
The Distilled Spirits Council of the United States (DISCUS) announced that its members were donating more than $8.37 million to the U.S. Bartenders Guild Foundation and other charities, collectively. Local distilleries all over the country have converted operations to make hand sanitizer, so don't forget to support them when they go back to producing craft beers.