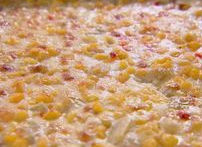 I keep running into the recipe on different sites so I am going to have to try it for Superbowl Sunday – it is Trisha Yearwood's Hot Corn Dip Recipe.I guess back in April 2010 when Trisha appeared on the View Whoopi Goldberg when crazy for this dip and had everyone try it. This recipe is from her latest cookbook Home Cooking with Trisha Yearwood: Stories and Recipes to Share with Family and Friends. If you have ever tried this dip or have suggestions on variations for it please share !
Here is the recipe for
Hot Corn Dip Serves 12
2 – 11-ounce cans Mexican corn, drained
2 – 4½-ounce cans chopped green chiles, drained
2 cups grated Monterey Jack cheese (about 8 ounces)
¾ cup grated Parmesan cheese
1 cup mayonnaise
Corn chips, for dipping
Preheat the oven to 350°F. Grease a 9 × 13 × 2-inch casserole dish.
In a medium bowl, mix the corn, chiles, cheeses, and mayonnaise until fully combined. Spread the mixture in the prepared casse¬role dish and bake, uncovered, for 30 to 40 minutes, or until bubbly around the edges. Serve the dip warm from the oven with corn chips. Keep this dip warming in a slow cooker.
Related posts:
New Years Lucky Foods
Unique Popcorn Flavors Around the World
10 Cruise Line Brunch Recipes

We invite you to visit our blog section which offers hundreds of cruise line recipes as well as our Pinterest board with over 800 cruise line recipes.