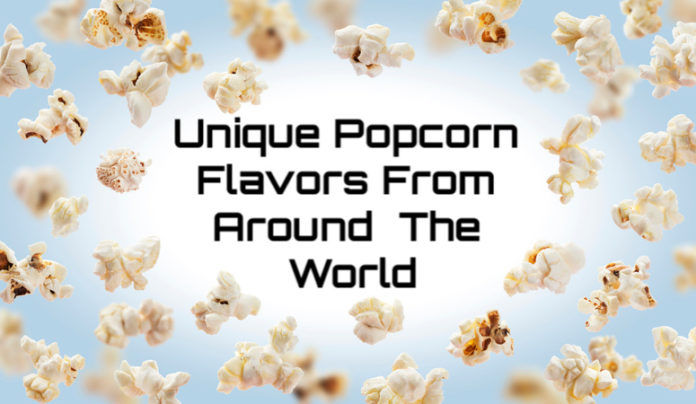 Did you know that popcorn today is national popcorn day? Although the U.S. does have more consumption than any other country, you will find popcorn in most countries around the world. Of course you are likely to find just salty or buttered popcorn in most places, but while on your travels, we suggest trying some of these unique popcorn flavors from around the world.

Brazil
Similar to a moose munch, in Brazil a popular snack is called Pipoca which is made from popcorn, caramel and cashew nuts. Also popular in Brazil is dulce de leche popcorn which is quite sweet & popcorn with crispy bacon which is delicious!
Japan
In Japan you can try unusual flavors such as curry, matcha & white chocolate, milk tea, honey, soy sauce and corn potage. While in Tokyo, check out KuKuRuZa Popcorn try their truffle fromage porcini & maple bacon popcorn.
Morocco
In Morocco you can find various spices being used including Harissa or Ras El Hanout. Popular spice blends in this region include cardamom, cumin, corriander, ginger, sweet & hot paprika, peppercorn, nutmeg, all spice, cayenne and turmeric.
Costa Rica
Locally picked cocao nibs are combined with sweet kettle corn.
Nigeria
Fruit chutney is popular. as well as Guguru & Epa which is spicy popcorn with peanuts. Ingredients include cayenne pepper, salt, sugar & roasted peanuts.
Peru
Canchita is actually unpopped popcorn that resemble corn nuts. You do have to use a certain type of corn which is cancha chulpe. Canchita is often served with ceviche.
France
Although popcorn is not all that popular in France, they do offer some unique options including olive oil, pink peppercorn, pink praline, strawberry and dark chocolate & pepper.
Asia (including Thailand & India)
In India try the Thai red coconut popcorn, Garam Masala, anchovy garlic, Siracha or miso soup.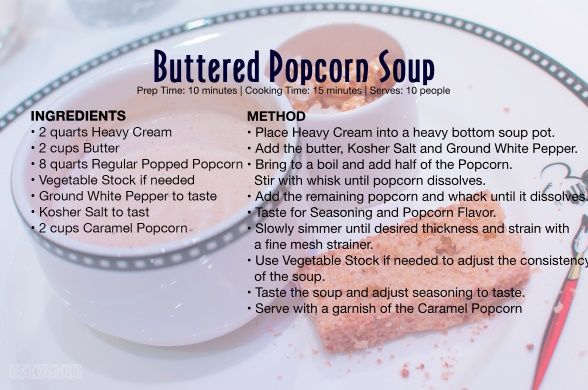 Here is a delicious recipe for Disney Cruise Lines Buttered Popcorn soup. We invite you to browse our selection of cruise line recipes.