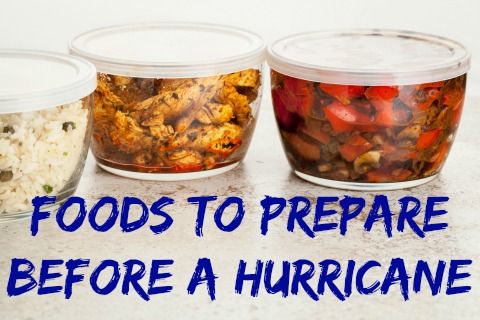 This post was originally written in 2016, but we are now updating again on August 31, 2019.
So here we are again South Florida.  We have been fortunate in our area of Florida for the past several years, but now we are in the midst of a very dangerous Hurricane Dorian with sustained winds of 145 mph.
For those of you who did not experience Frances (Category 2) and Jeanne (Category 3,) in South Florida in 2004, take our word for it – Dorian is scary, as the winds are stronger and the storm itself is wider than these others.  Forecasts are hoping it stays just off the coast of Florida, but we still can't be sure. Either way our area is sure to see hurricane force winds.
We hope you have read our blog on hurricane preparedness tips and hacks.
Once you are ready and have done your food shopping, there are some things you can cook in advance to help you through a day or two without power.  Turn up your fridge to the coldest setting the day before storm is supposed to hit and avoid opening it.  Food in your freezer will be safe to eat up to 48 hours after power is lost.  Add in bags of ziplock filled with water a day before the storm.  They will freeze and help keep your freezer & fridge colder for a long period of time.
Try to go through any expensive meats or seafood before the storm arrives.  Make sure you have paper plates, cups and napkins just in case you don't have water.
We recommend a cooler to keep essential food items on ice.  Tupperware for pre-pared foods that can be eaten cold.
Boil some pasta ahead of time and keep in in tupperware in your cooler.  Cold pasta salad is an easy snack.  Throw in a can of tuna/chicken/salmon and or veggies, and you have a healthy meal  (put a small container of mayo or Italian dressing in your cooler if you want to dress it up a bit). While on the subject of condiments, if you have small packages of ketchup, mayo, mustard or relish from eating fast food recently, these are perfect to have on hand during a storm (make sure you have a old fashion can opener that doesn't require power to use)
No pasta? Make rice, couscous or quinoa.  Lots of delicious cold recipes using these grains.  An easy one for rice salad is 1 1/2 cup rice, pinch of salt, 1 cup cooked peas, 1/2 red pepper, 1/4 red onion diced and Italian or Greek dressing to taste. You can make an "Italian" rice salad by adding ingredients such as marinated artichoke & olive.  Add salami, chicken or shrimp if you'd like. Go Mexican with beans, corn, cilantro, jalapeno, lemon or lime zest and cumin.
Bean salad is another easy snack or meal.  Add peppers, onions, tomatoes or anything else you have in the fridge.  Mix with olive oil, vinegar and seasonings. Canned/refried beans can also be used as dip for chips and veggies.
We buy cold cuts to keep in our colder.  A few days worth of ham, turkey, cheese, etc.  that you can make sandwiches with, or have on crackers. If you are going for healthy, choose crackers and bread that are whole grain and high in fiber.
Muffins, granola/protein bars and cereal make for a quick breakfast.
Cut up veggies like celery, carrots and peppers that can be dipped in dressing for a snack. Avocados are high in protein and can be used as a veggie dip as well. You can also spread on bread to liven up a sandwich.
Nuts or trail mix don't require refrigeration.
If you have shrimp in the freezer, prior to the storm, peel and boil with salt and lemon.  Whisk together with mayo, mustard, red wine vinegar, salt and pepper to make a cold shrimp salad you can have over the first couple of days. Of course you can also add other seasoning, dill, chives, celery, scallions or anything else you have on hand that you may want to go through. This goes great on crackers, stuffed in an avocado or you can mix with the pasta you pre-made as well.
It's not for everyone, but if you have ground beef to go through – consider preparing a meatloaf which many people are willing to eat cold or mix with taco seasonings so you can eat cold over a salad or chips. Same goes with steak. You can use on salad or slice thin for a sandwich. OF course if you have access to a gas stove or grill then you don't have to worry about eating these foods colds.  We are focused on cold dishes since we were without power for 11 days after one hurricane hit so we had to be creative.
Snack on peanut, almond or other nut butter with apples, celery or other favorite fruit or vegetable.
If you have special dietary needs, such as Vegan, Gluten free, sugar free, etc. please plan ahead.  Since I have Celiac disease, I did a post on Gluten free hurricane foods as well.
Don't forget food safety.  Wash cans with soap and water before opening.  Wash all fruit and vegetables as well.  Do all of this before the storm so you are not going through your water supply.  Have veggies cut up so you don't have to dirty dishes and cutting boards.
If you are a college student or just don't keep a lot of food from one week to another, pizza is always a good choice as it can last 24-36 hours on the counter without spoiling.
If you have a grill, make sure you have propane or charcoal, cooking tools, aluminum foil and disposable pans that can go on your grill.
If a drink helps you relax, maybe a 6 pack of beer or bottle of wine.  Do not over drink, as you need to be alert during the storm in case there is an unexpected emergency.