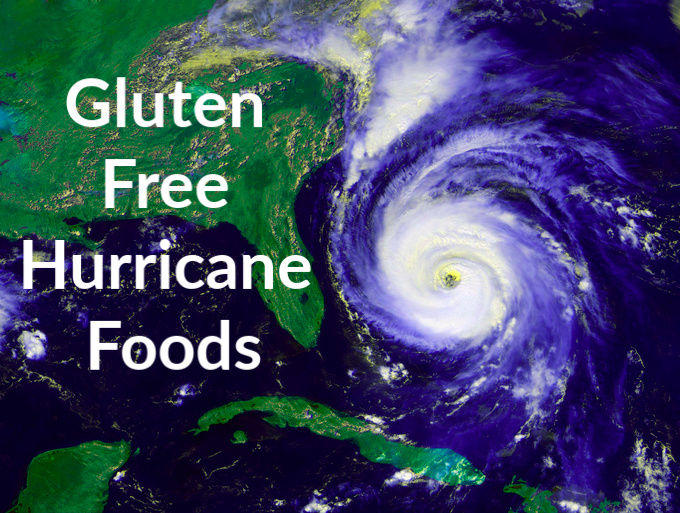 As if a hurricane is not stressful enough, stocking up on foods for several days can be complicated since staples like bread and canned goods often contain gluten. The last thing you want is any pain or discomfort during a storm. When choosing items to stock up on, you also have to keep in mind that you may be without electricity for several days, so you want to have non-perishable foods on hand.
Crackers: Gluten free bread usually comes frozen in many stores, so it's a better idea to go with gluten free crackers. One of my favorite brands is Shar. Their saltines taste just as good as a regular cracker. Other popular brands include Glutino, Crackermaster, Foods Should Taste This Good & Artisan Nut-thins.

Gluten free cereals: With or without milk, cereal is an easy snack. Chex Cereals, Rice Krispies & Cheerios have plenty of flavors to choose from. If you are looking for a sweeter option, then Fruity Pebbles, Cocoa Pebbles, Lucky Charms & Honey Bunches of Oats Chocolate are all good choices. (Keep in mind milk won't last long once the power is out, so consider buying almond or soy milk that are found on grocery store shelves or even powdered milk, both which last for months.)

Chips: There are lot of brands of gluten free tortilla & potato chips. Popular brands include Terra Chips, Popchips & Cape Cod. In the same snacking category, popcorn is also an option. Our favorite is Skinny Pop followed by Smartfood White Cheddar and then Angie's Boom ChickaPop.

Cold Cuts: We like to keep a cooler with some of our favorite Boar's Head deli meats and cheese to have with crackers.

Canned Goods: Of course always made sure to read the labels. Consider canned fruits such as pears, peaches, oranges & pineapple are safe to eat. Some canned tuna, chicken, salmon & Vienna sausages are gluten free. If you have a grill or heating source, then consider canned soups or beans, but again not all soups are gluten free, so look them up first. Progresso makes a great gluten free rich & hearty chowder, as well as a potato, broccoli and cheese chowder. Many broths are gluten free as well.
Snacks: Although chips & even cereal can serve as snacks, if you are a nervous or picky eater, then consider buying some health snack like KIND bars, Made Good granola packets, nuts, cheese sticks, jerky & rice cakes are all good choices of things that won't go bad quickly if the storm has a minimal impact on where you live.

Other helpful tips:
Cooler – its a good idea to have a cooler with plenty of ice. The reason for this is once you power goes out, and even prior to, you open your fridge less which means it will maintain colder for a longer period of time. We actually have 2 coolers…one for drinks (like water & yes wine as well,) & one for snacks like the cold cuts mentioned above. I often also through in small containers of chopped veggies like carrots & celery, along with hummus or another dip for a health snack. You don't want to buy these items in bulk as they will go bad, but certainly enough for a few days. Hard boiled eggs make an easy snack.
Get creative! If there is a chance you will lose power, which is typical with hurricanes, cook some items in advance that you can use the first couple of days. For example, boil some gluten free pasta & save in a container in your cooler. When you are hungry, mix it with a can of tuna & mayo for an easy lunch. Set aside things in your cooler like shredded cheese, pre-chopped tomatoes, green onion & cilantro and make some gluten free nachos. (Add in sour cream, jalapeno, peppers, & even a can of beans to feed several people with a filling and nutritious meal. This goes the same for rice, couscous or quinoa where you can pre-make salads to eat within a couple of days. Read more on Foods to Prepare Before a Hurricane, but keep in mind the need to read labels and adjust for gluten free.
Slow cooker. If you have some expensive meat or seafood that will go bad, as the storm approaches the night before leave it in your slow cooker or Instapot. Once they are cooked and on warm, items will stay hot for several hours even after the power goes out. It may only solve 1 lunch or dinner, but it's comfort food before you have to change up to more of the easier type of meals like sandwiches. If you use your oven instead, use a disposable aluminum pan & place the food in an insulated carrier to keep the food warm. Read the reviews, as some products keep the food hot for up to 6 hours.
Make sure & have paper plates, plastic utensils & napkins.
Small packets of gluten free ketchup (Heinz,) mustard & mayo really come in handy during a time where there is not electricity.
Have a bottle of GlutenEase just in case you are exposed to gluten accidentally.  It really helps calm things for me, as well as charcoal pills.
Keep some cash on hand. ATM machines can be down for days and you want to be able to buy something if you need it.
Buy plenty of bottled water. It is suggested you have a minimum of 3 days of water per person, which is a gallon of water per day. Keep your pets in mind as well.
Have a manual can opener.
If you have a grill, make sure you have propane or charcoal, cooking tools, aluminum foil and disposable pans that can go on your grill.