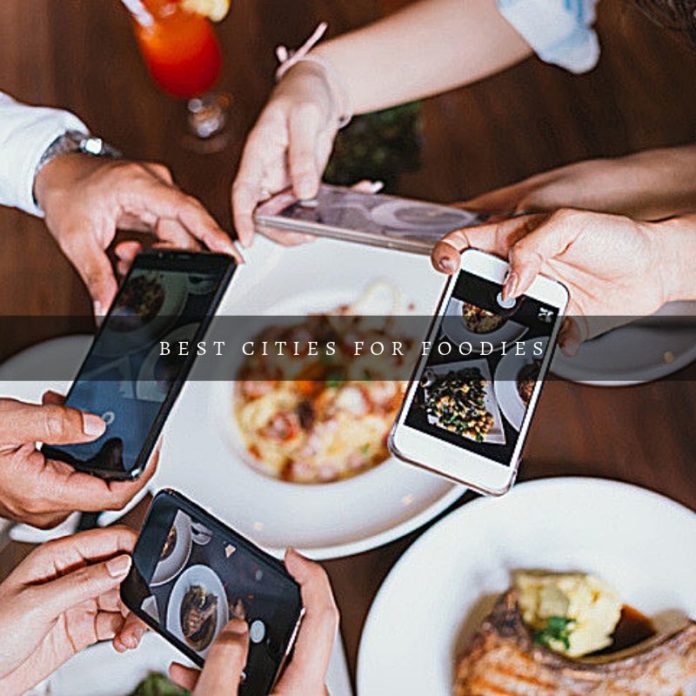 Travel and food go hand in hand. With so many international cities with amazing cuisines, it's hard to narrow it down to the best cities for foodies, but here are the top 5 destinations for food-lovers.
Tokyo
Tokyo, Japan has more Michelin-starred restaurants than any other city, so it's no surprise it is one of the best international cities for foodies. Japan's capital has it all– from high-end, world-renowned restaurants to unforgettable street food stalls. An island nation, Japan boasts extraordinarily fresh seafood, and Tokyo is where you will find some of the best sushi in the world.  Popular street foods you must try are ramen, okonomiyaki– a savory pancake with fillings of your choice, and grilled meat skewers called yakitori.  The Tsukiji Outer Market is a must-see and where you will find freshly caught seafood for sale. Here are Japan tour packages.
Paris
Ah, Paris!  In addition to famous French cheeses and wines, Paris has one of the best food scenes in the world.  Paris is one of the best international cities for foodies. Start your morning at one of the countless patisseries where you will find delicious pastries like croissants, macaróns, profiteroles, and éclairs.  As you walk the streets of Paris, street vendors will tempt you with snacks like roasted chestnuts and, of course, crêpes are available with a variety of savory or sweet fillings.  Casual brasseries serve favorites like steak-frites (steak and fries), croque monsieur (a fried ham and cheese sandwich), and French onion soup.  Paris is also well-known for its haute cuisine fine dining, including dishes such as escargot (snails cooked in a garlic butter sauce), steak tartare (a raw beef appetizer), and chicken braised in wine or coq au vin. Browse these France Tour Packages
Rome
You probably think of pizza when you think of the best foods to eat in Rome, and you're correct.  But there's also amazing pastas of all varieties, Italian wines and freshly made cheeses, and the Roman specialty: fried foods. When in Rome, anything that can be fried is, and it's all delicious.  From fried risotto balls called arancini, to fried pizza, to fried artichokes, Rome is one of the best cities for foodies and worth every single carb. If that wasn't enough, have an Italian espresso and some decadent gelato and call it a night.  View these escorted Italy tour package
Lima
With its unique local ingredients and fusion of European, Asian and African influence, Peruvian cuisine has come to the forefront of the world stage in recent years, and the capital Lima is home to some of the best restaurants in the world. Peru was named South America's Leading Culinary Destination for seven years in a row by the World Travel Awards, so it's no surprise that Lima is one of the best travel destinations for foodies. Some must-eat dishes in Lima are ceviche- a raw fish salad, lomo saltado- a stir-fried beef dish, and a popular street food called anticuhos, which are skewered meats marinated in vinegar. Here are some Peru tour packages that visit Lima.
Bangkok
With the largest Chinatown in the world, Bangkok, Thailand is famous for its tantalizing street foods. Treat your taste buds to Thai curries and stir-fries, flavorful grilled skewered meats called satay, spicy green papaya salad, hoy tod- a crispy omelet with oysters or mussels, and no trip to Bangkok would be complete without lots and lots of noodles. Click to view these Thailand tours