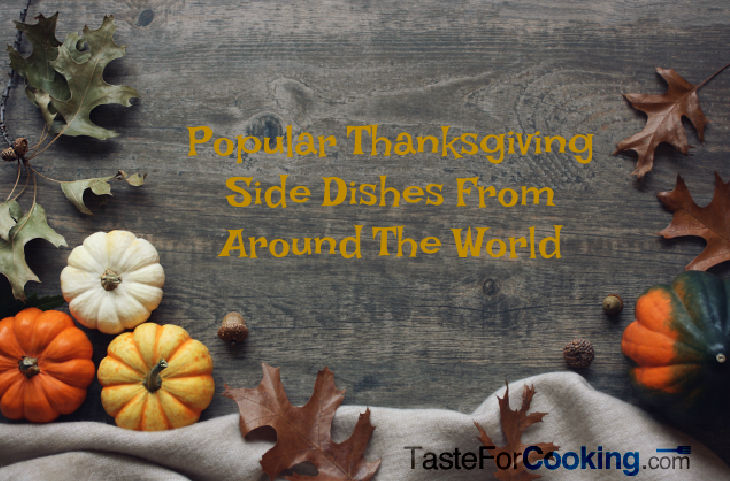 Popular Thanksgiving Side Dishes From Around The World
Stuffing, green bean casserole and sweet potato pie are all popular Thanksgiving dishes. Many of them are eaten not just for the taste, but because of family tradition as well. This is even true for households in other countries. Popular Thanksgiving sides from around the world may look very different than what's popular in America, but some of them may be worth trying this Turkey Day.
Germany
While Germany doesn't actually celebrate Thanksgiving, they do have a similar celebration called Erntedank. This holiday commemorates the autumn harvest so it's only fitting that a colorful dish would complement their table. This dish contains purple cabbage that is braised with bacon being added to it. It does tend to be tangy, but provides a much different flavor than the traditional stuffing or mashed potatoes.
Korea
Those located in Korea put a unique spin on the traditional salad. There may be a good chance that you will be having a salad during your Thanksgiving meal, but why not make it less boring my making kimchi. To make this dish you will use a whole head of cabbage, maybe more if you will be having a lot of guests. Then you will throw in a variety of other vegetables including carrot, radishes, onions and a variety of spices. The best part of it though is the porridge that's mixed into it which contains water, turbinado sugar and sweet flour rice.
Persia
Mehregan is the celebration in Persia that's most similar to Thanksgiving in the U.S. They have their own take on stuffing that's rather interesting as well as tasty. Instead of using small chunks of bread, basmati rice is the main ingredient in this stuffing. Other ingredients include turkey or chicken stock, garlic, celery, goat cheese and pomegranate paste.
Italy
Thanksgiving celebrations in Italy are generally only found in the homes of American expats. Instead of green bean casserole or sweet potato pie, a cheese and vegetable manicotti is served. Don't worry though as you don't have to make the pasta or sauce homemade if you don't want to as store bought should be sufficient. Pumpkin pie generally tends to be ditched for tiramisu as well.
Brazil
This country celebrates their version of Thanksgiving, called Dia de Acao de Gracas, on the last Thursday in November. One of the main highlights of their meal is feijoada. It's known as the country's national dish and is made with black beans and sausage. Some versions are so thick that you can eat it with a fork.