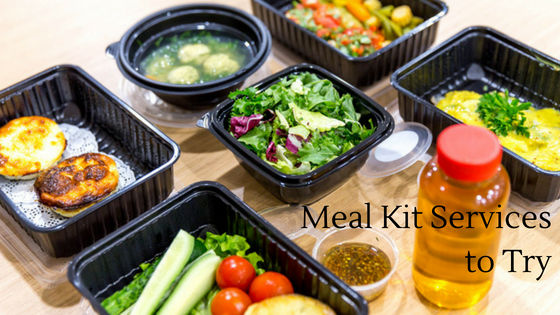 Meal Kit Services to Try
Those that are busy or just don't like to cook don't have to turn to fast food in order to get a meal. Meal kit services provide all of the ingredients you need to make some amazing meals right at home. They take all of the guesswork out of cooking and you don't even need to leave the house to get what you need to make a tasty dish. These meal kit services are some of the most popular ones to try.
Blue Apron
Sample Costs: 3, 2 serving meals for $60
Types Of Dishes: Pad thai
This meal kit service basically started it all. The average prep and cook time of each dish is only 45 minutes. This means that you can easily cook a meal at the last minute. Another perk is that the directions are easy to follow so you don't have to be an experienced chef to make whatever dish that is included. One of the more interesting things about this meal kit service is that the chefs work directly with the farmers that provide the ingredients and stories are included in each kit that talk about where the food came from.
Purple Carrot
Sample Costs: 3, 2 serving meals for $72
Types Of Dishes: Plant based dishes like coffee teriyaki skewers
There's even a meal service kit for vegans. Purple Carrot provides everything you need to make a meal without any animal products.The ingredients include seasonal produce as well as all of the spices and sauces that you need to make a plant based dish that's anything, but boring.
Chef'd 
Sample Costs: 1, 2 serving meal for $12
Types  of Dishes: Baked chicken
Chefs are the ones that come up with all the dishes for this meal kit service. They include Wolfgang Puck and Rachel Carr. There are more than 650 recipes to choose from so you don't have to worry about lack of variety. Besides dinner options there is also breakfast, lunch and dessert type dishes as well. There are also diabetic friendly options, Atkins and Weight Watchers inspired dishes.
GreenBlender
Sample Costs: 10 kits for $49
Types Of Dishes: Smoothies
The only thing that GreenBlender offers are smoothies. This is perfect for those that are looking for a light breakfast or a meal replacement option. Most smoothies only have about 100 to 300 calories though so they tend to be drank more as a snack. Everything is included to make a tasty smoothie, except for a blender.
HelloFresh
Sample Costs: 3, 2 serving meals for $60
Types Of Dishes: Garlic butter shrimp
With so many different options it's no wonder that many people choose HelloFresh as their go to meal kit. You can easily set a meal preference if you are looking to exclude a certain ingredient in your recipes. In addition to typical dishes they also have fit, variety or quick options.
PeachDish
Sample Costs: 2, 2 serving meals for $50
Types Of Dishes: Chicken and kale with grits
If you are trying to eat healthy, but don't want to sacrifice taste, PeachDish may be right for you. They put a spin on southern inspired dishes so that many of them are less than 600 calories. All of the ingredients come from local farms that use sustainable practices. There are also vegan and vegetarian options for those that have certain dietary preferences.
Home Chef
Sample Costs: $9.95 per serving
Types Of Dishes: Pan-seared pork chops
This is a good meal kit service for those that really like to have a lot of choices. Users can choose what kind of meals they prefer such as meat or vegetarian and even choose whether they'd like low calorie or low carb dishes. In total there are about 15 different meals to pick from every week based on your preferences.Everything is included in each kit, except for the cooking oil.
FreshDirect
Sample Costs: $7.50 to $14.99 per serving
Types Of Dishes: Lemon-herb salmon
There are literally hundreds of different meals to choose from with Fresh Direct. One of the perks of using FreshDirect is that it's not just a meal kit service, but a sort of one stop shop for groceries as well. You can add things like drinks or pastries to your order in addition to your meal kit.
Other blogs that may interest you:
Christmas Meals Around the World
Great Outdoors Markets to Visit While Traveling
New Years Lucky Foods