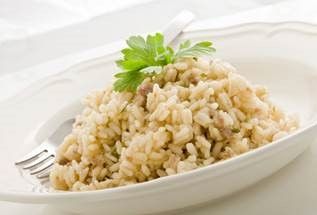 If you are taking an Italy tour that visits Venice, expect the food to be different than in Rome. Northern Italian cuisine is characterized by less use of olive oil, past and tomato sauce, and more use of butter, rice, corn and cheese for cream sauces.  past in the north is by no means non-existent, but it does have to share time with delicious risotto and polenta.  Northern Italian main courses often reflect the people's pride in their unspoiled countryside and area likely to include some sort of game or wild fowl such as rabbit, quail or grouse.  Seafood and shellfish are also very popular on the coasts, and river and streams provide carp and trout.  of course the overall rule is if it grows well in the area, it will usually be on the plate!
Here's a recipe for a dish you might find while in Venice….Italian Chicken Sausage Risotto
Ingredients:
1 tablespoon olive
1 (16 ounce) package al fresco all natural sweet Italian chicken sausage
1 cup chopped sweet onion
1 tablespoon minced fresh garlic
1/2 teaspoon dried thyme
1 1/4 cup chardonnay or other day white wine
3 1/2 cups low sodium chicken broth
1 cup petit sweet peas
Directions:
In a heavy, large Dutch oven or saucepan, heat oil over medium heat.  Sauté sausage and onion the onion is translucent (about 3 minutes.)  Add garlic and thyme and cook 30 seconds to 1 minute.  Add rice and wine, and stir for 1 to 2 minutes until wine is absorbed.
Warm your broth in the microwave, and stir in 1 cup at a time.  Lower heat to medium-low and simmer, uncovered until broth is absorbed, stirring every few minutes.  Add in more broth, until all 3 cups have been absorbed.  This process takes about 15 minutes.  Stir in peas and 1/4 cup parmesan.  Cook 1 minute or until heated throughout.
Season with 1/4 tsp. black pepper.  Garnish with parsley and remaining cheese.
Serve immediately.