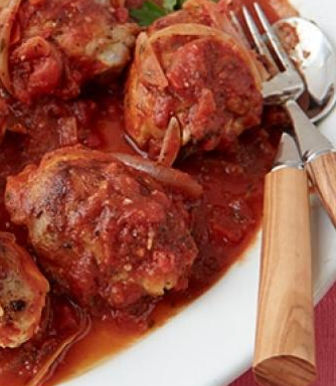 This recipe is adapted from the Nealy's "Get Yo' Man Chicken."  It take less than an hour to cook, and it's a delicious, healthy sauce.
Ingredients:
3 tablespoons olive oil
6 skinless chicken thighs
3-4 cloves garlic
1/2 teaspoon pepper
1 medium white onion, chopped
1/2 green pepper, chopped
1 cup low sodium chicken broth
1 cup white wine
1 14.5 ounce can crushed tomatoes
1 teaspoon dried thyme
1/2 teasppon dried rosemary
2 tablespoons fresh chopped parsley
Directions:
Heat the olive oil over medium heat.
Brown the chicken 4 minutes on each side.
Transfer to a plate and reserve.
Dump oil (don't wipe pan, just get rid of excess)
Brown onion and peppers for 3 to 4 minutes
Add stock and wine.
Turn heat to high and reduce liquid in half.
Pour in crushed tomatoes.
Add in chicken thighs and herbs.
Cover and cook on medium low for 40 minutes.
Serve over rice or pasta. Sprinkle with fresh chopped parsley.