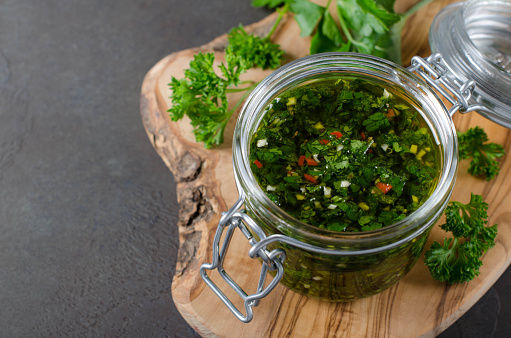 We all know that we should eat more fish but not one of us does it – right ? We don't even come close to eating fish once a week but it was one of my New Year's resolutions to incorporate more fish and vegetarian meals into our diet so here goes nothing. So we far we are into week two of the new year and I have to say the best thing I did was sign up for the myrecipes.com database of newsletter recipes. Something that came through that week one of the suggested meals was a Pan Grilled Halibut with Chimichurri. It was very easy to put together and definitely something we eat again – even the kids ate it !
Yield: 4 servings (serving size: 1 fillet and about 2 teaspoons sauce)
Ingredients
1 1/2 tablespoons chopped fresh cilantro
1 1/2 tablespoon chopped fresh basil
1  1/2 tablespoon finely chopped shallots
2  tablespoons olive oil
1 1/2 tablespoons fresh lemon juice
1/2 teaspoon salt, divided
1/4 teaspoon freshly ground black pepper, divided
Cayenne Pepper on top once it is cooked for a little extra kick
Cooking spray
4  (6-ounce) Snapper fillets
Preparation
1. Combine the first 5 ingredients in a medium bowl; stir in 1/4 teaspoon salt and 1/8 teaspoon pepper.
2. Heat a grill pan over medium-high heat. Coat pan with cooking spray. Sprinkle remaining 1/4 teaspoon salt and 1/8 teaspoon pepper over fish. Add fish to pan; cook 5 minutes on each side or until desired degree of doneness. Serve with sauce.
As a side I made a Risotto with Asparagus and Mushrooms – it was great with it.
These fish skewers with Basil Chimichurri are also a great appetizer option.