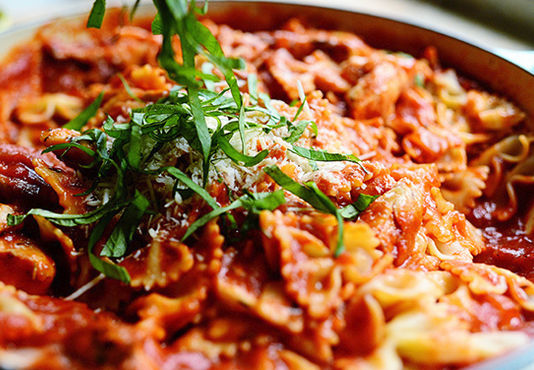 We love Italian comfort food not the bloated yucky feeling we get after we eat it. This recipe is take on a Skillet Lasagna recipe I found in the Food Network Magazine which is a great resource for recipes ! It is made with only vegetables but believe me you will not miss the meat – this lasagna is full of flavor. Something else that makes this recipe a little different is that you use diced tomatoes and end up blending together your own sauce – you would think that it takes a long time but it doesn't – it really makes a difference in the flavor so it is well worth doing.
Ingredients
1/4 cup extra-virgin olive oil, plus more for drizzling
4 cloves garlic, minced
1 1/2 pounds ripe tomatoes, diced – or we used canned 2 cans of diced tomatoes to save time
4 tablespoons chopped fresh basil
1 tbl dried Oregano
Kosher salt and freshly ground pepper
1 cup lowfat/skim ricotta cheese
1 large egg
2 tablespoons grated parmesan cheese, plus more for garnish
6 sheets no-bake lasagna noodles
1 carrot, peeled into ribbons or shredded – we used
1 zucchini, peeled into ribbons
3 1/2 cups baby spinach
1/3 pound mozzarella cheese, thinly sliced – or we used 1 cup shredded mozzarella
Directions
Heat the 1/4 cup olive oil in a large skillet over medium-high heat. Add the garlic; cook until golden, 1 minute. Add the tomatoes, 1 tablespoon herbs, 1/2 teaspoon salt, and pepper to taste; cook until saucy, about 5 minutes. Transfer to a blender and puree. Return 1 cup of the sauce to the skillet and reduce the heat to low; reserve the remaining sauce.
Meanwhile, mix the ricotta, egg, parmesan, the remaining 4 tablespoons herbs, 1/2 teaspoon salt, and pepper to taste in a bowl.
Place 2 lasagna noodles over the sauce in the skillet. Layer half of the carrot and zucchini on top; drizzle with olive oil and season with salt and pepper. Cover with half of the spinach, half of the ricotta mixture, a few pieces of mozzarella and 2 to 3 tablespoons of the reserved tomato sauce. Repeat the layers, ending with noodles. Top with the remaining sauce and mozzarella. Cover and simmer until the lasagna is cooked and the cheese melts, 20 to 25 minutes. For the original recipe visit the food network site.