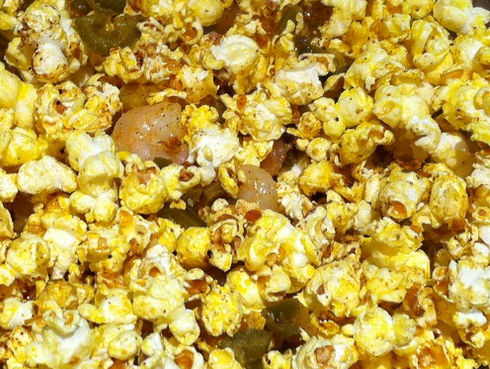 This was on the today show this morning – a new twist on Shrimp and Popcorn – yeap you read it correctly – I did not say popcorn shrimp but Shrimp with Popcorn. I can't wait to try this recipe – time to have another tapas party ! Excerpt from their site "Planning a party? Treat your guests to some delicious dishes from Todd English. Here, the famous chef and restaurateur shares his recipe for sizzling shrimp popcorn."
Sizzling shrimp popcorn
Ingredients
1/4 cup unpopped popcorn kernels
1 tablespoon unsalted sweet butter
Smoked paprika to taste
Salt and pepper to taste
1 1/2 cups rock shrimp (or small baby shrimp)
1/4 pound whole unsalted sweet butter
2 tablespoons chopped garlic
20 sprigs Italian parsley, picked and roughly chopped
10 sprigs mint, picked and roughly chopped
1 cup sharp Cheddar cheese
2 jalapenos, sliced thinly
Preparation
In a 3-quart stock pot, melt butter over medium heat. Add popcorn kernels and heat until all popped. Transfer from pot into large mixing bowl and toss in smoked paprika, salt, and pepper.
In a saute pan, melt butter over medium heat. Add chopped garlic and lightly toast, constantly stirring. Add shrimp and saute for 30 seconds, constantly stirring — be careful not to overcook shrimp. Finish with salt and pepper.
Pour the contents of the pan with the shrimp over the popcorn and add jalapenos, parsley, and mint. Toss until the popcorn is well coated. Place in a large serving bowl and garnish with shaved Cheddar cheese.
Serving Size
Yield: 12 servings – recipe by Todd English featured on the Today Show