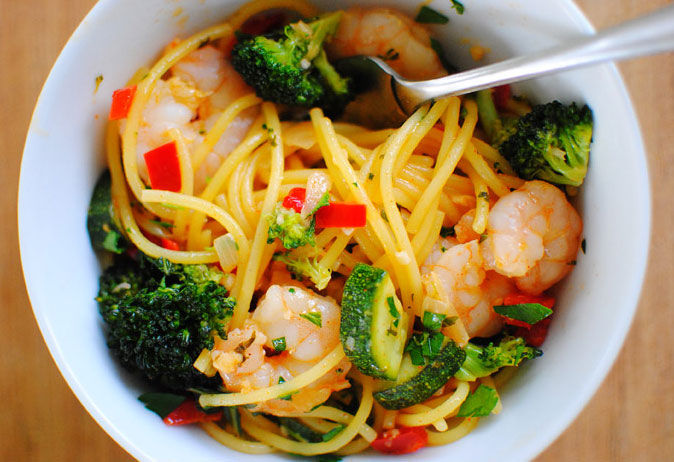 Another edition of foodie loves friday with our friend Renee! She was originally going to make her weekly chicken dish, but remembered she had some shrimp in the freezer. At first, her thought was, "I'll just make the standard shrimp dish I usually make.  Noodles, shrimp, garlic, onion, butter and olive oil". But then, out of the blue, she remembered, "Well, I have broccoli and red pepper that needs to be used. I'll add that!  Well, once she started cooking, more foodie juices started flowing. Then she remembered  there was a zucchini in the fridge, some leftover steamed kale and some fresh parsley. Less than 30 minutes to make. So easy and so scrumptious. The perfect summertime meal.
Recipe for Shrimp Noodle Bowl
Ingredients
1 bag of frozen shrimp (thawed)
1/2 box of pasta of choice (I used quinoa pasta)
2 heads of fresh broccoli, cut into small pieces
1 red pepper, chopped
1 zucchini, chopped
1 to 2 bunches of steamed kale (but you can use raw instead)
1/2 onion, chopped
3 to 5 garlic cloves, minced
1/4 cup of lemon juice, freshly squeezed
3/4 cup of olive oil
1/2 handful of fresh parsley, chopped
1/2 stick of pasture butter
1/2 tablespoon paprika
1 teaspoon sea salt
dash of pepper
Directions
1. Cook pasta.
2. Heat pan to medium heat.  Add in olive oil and a touch of salt.
2. Saute onion and red pepper for 3 to 5 minutes. While waiting, juice lemon and then set aside.
3. Add in shrimp. Let cook for a few minutes.  They don't take long. If over cook, they can become tough and chewy.
4. After shrimp have been in for 3 to 4 minutes, add in zucchini, lemon juice and butter.  Let cook for another 3 minutes.
5. Add in broccoli, kale, parsley, paprika, salt and pepper.  Cook now until shrimp is done.
6. Once shrimp is done, add in cooked pasta and then mix.  If you need a little more olive oil and butter, go ahead and add.
7. Place in your favorite serving bowl.
8. Turn off all distractions, sit down by yourself or with your family and/or friends, take a few deep breaths, say how much gratitude you have for your food, your family, your life and dig in, slowly and savor the deliciousness!
Variations: Replace shrimp with chicken, pork, beef, tofu or just have it vegetarian style.  Add some freshly grated parmesean on top.  Add your favorite hot sauce to give it a little punch.  Mix up the veggies to your liking. For more recipes visit foodie loves friday.