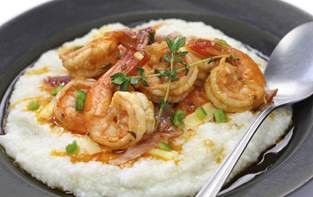 I was not a fan of grits until my road trip to Charleston and Savannah a few years ago.  It was practically in every restaurant we visited for breakfast, lunch and dinner.  There are lots of variations of shrimp and grits recipes.  This one is great.  I can't stress enough that creamy & for me cheezy grits are a must for any successful shrimp and grits recipe.
Creamy Grits Recipe

4-5 cups shrimp or chicken stock
1 cup yellow stone-ground grits
1 cup grated white cheddar cheese
¼ cup heavy cream
Freshly ground black pepper
2 tsp Salt
3 green onions, thinly sliced, for garnish
Tips:  If you have the time, don't use quick-cooking grits.  I will admit that over the years I have been in a rush from time to time, and have been able to make quick-cooking grits super creamy and tasty,  so I will include that information below as well.
Directions for grits:

1. Bring 4 cups of the water and 2 teaspoons of salt to a boil in a medium saucepan over high heat. Slowly whisk in the grits and bring to a boil. Reduce the heat to medium and continue cooking until the grits are soft and have lost their gritty texture, whisking every few minutes for a total of 15-20 minutes. If the mixture becomes too thick, add remaining water and continue cooking until absorbed. Add the cheese and heavy cream and whisk until smooth; season with salt and pepper.
Creamy Grits Recipe with Quick-Cooking Grits (Quaker Oats)
1 1/2 cups chicken broth
1/2 cup heavy cream
1/2 cup half and half
1/2 cup 5 minutes grits
2 tablespoons butter
Add chicken broth, heavy cream and half and half to a pot & bring to a boil.
Slowly add in the grits while whisking frequently.
Reduce heat to low and cover.
Cook for 5 to 7 minutes in total – whisking every couple of minutes to make sure it's thickening.
Remove from heat & add butter & ground pepper. This would be the time to add cheese also.  I like to use a shredded cheddar blend. I use at least a cup of cheese & at times we will sprinkle a little on top of the grits as well when serving. I love mac and cheese, but being diagnosed celiac several years ago means that I often look to fulfill cravings for something hot, creamy and cheesy in grits.
Shrimp
½ pound thick-cut bacon
2 tablespoons pure olive oil
20 large shrimp, shelled and deveined
3 cloves garlic, finely chopped
Salt and freshly ground black pepper
Optional tips: (squeeze of lime on the shrimp while cooking; add 1/4 cup of white wine while cooking the shrimp on high heat – will help the shrimp stick a little but which adds flavor…the wine will evaporate; if you have time rinse and cook the shrimp shells in 1/4 cup of wine before cooking your shrimp, and reserve as a sauce to put over the cooked shrimp; add andouille or a kilbasa sausage to this recipe)
1. Place bacon in a medium pan over medium heat and cook until golden brown and crisp and the fat has rendered. Remove bacon with a slotted spoon to a plate lined with paper towels. Cut into small pieces.
2. Remove all but 2 tablespoons of the bacon fat from the pan and place back on the heat. Add the olive oil and increase the heat to high, season the shrimp with salt and pepper, add the shrimp and the garlic to the pan and sauté until golden brown on both sides and just cooked through, 1-2 minutes per side. Remove shrimp to a plate. Reserve the garlic oil to drizzle over the finished dish.
Divide the grits among 4 bowls and top each with 3 shrimp. Drizzle the top with some of the bacon/garlic oil that the shrimp were sautéed in and sprinkle with some of the bacon & green onions.
Add your favorite toppings – I like to add fresh cilantro and a bit more shredded cheese.
If you prefer your shrimp in a red sauce, you could also take your leftovers after making our enchilado de camarones recipe and use them on the grits as well.