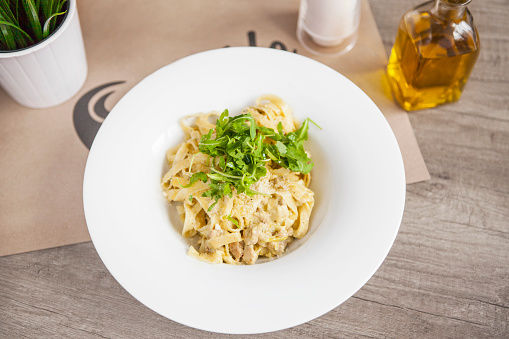 If you are calorie counting, this is not the dish for you! Princess Cruises is known for their excellent cuisine, and this Fettucine Alfredo recipe will help you recreate a delicious meal.
Fettuccine:
1 pound egg noodles
4 egg yolks
1 c. heavy cream
½ c. Parmesan cheese
Salt and Pepper to taste
Cook the pasta according to package directions.
Drain and set aside.
Boil ¾ c. cream and remove from heat.
Combine egg yolks with remaining ¼ c. cream to form a liaison.
Add ¼ c. of the boiled cream to the liaison. Stir and then combine liaison with the rest of the cream.
Add Parmesan. Adjust seasoning.
If necessary, reheat pasta in boiling, salted water. Toss drained pasta with sauce.
Parmesan Cheese Basket:
2 c. grated Parmesan cheese
Place a non-stick omelet pan on the stove over medium heat.
Sprinkle the bottom of the pan evenly with approximately ½ c. of the Parmesan cheese. Allow to cook until the color lightly changes to golden.
Flip the cheese over and allow to cook until golden.
Remove from the pan and place over a mold form or bottom of a bowl to create a dome shape. Let cool.