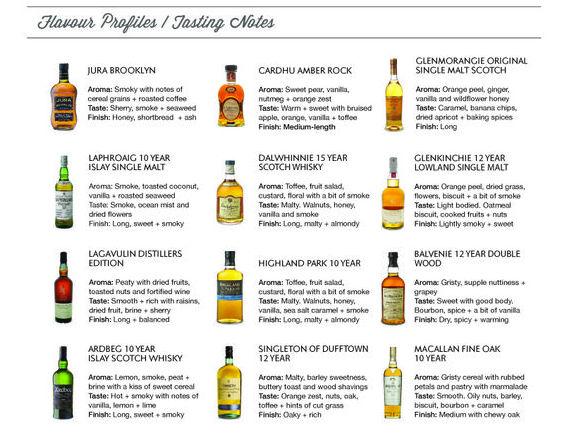 If you have the opportunity while on a cruise to take part in a Single Malt Tasting, we highly recommend it.  It's a great way to taste some expensive 10 to 15 year old whiskys at a low price.  You can also host  a whisky tasting party after dinner or appetizers.
One tip we learned is that you can tasting the single malt both on its own and with a couple of drops of bottled water.  Adding water enhances the aroma and changes the taste a bit.
If you are a first timer, tilt the glass and whirl it around a few times, small the whisky and then take a small sip.
On our recent Oceania Cruise, we tasted 4 high quality Single Malt for just $15.50.
1. Dalwhinne Classic 15 Year Old
A gentle, delicate 15 year old malt from the windswept Highlands of Scotland, Dalwhinnie Classic is subtle and smooth with a honey finish.
I found this too strong! Yes it was my first tasting but again for me personally I did not like it as much as the others we tried.
2.  Glemorangie The Quinta Ruban
This elegant non chill-filtered malt is matured in bourbon casks then again in Ruby port casks. It is defined by notes of mint and dark chocolate.
Being a novice, I can't say that I tasted much of the mint or dark chocolate, but I did like the flavor.
3.  Oban 14 Year Old
Founded in 1974, Oban Distillery overlooks the Firth of Lorn in a great location fro a single malt with the perfect balance between Highland and Islay.
This was the smoothest of the 4 brands we tasted.
4.  Glenmorganie The Sherry Wood
This non chill-filtered single malt is initially matured in bourbon casks, then finished in Olorso Sherry casks to create a rich taste.
This was my favorite of the ones we tried – reminded me a bit of a port but with more complex flavor and characteristics.
Other brands that were available for tasting were the Knockando, The Balvenie Founders 10 Year, Laphroaig 10 Year, Bunnahabbain 12 year, Gragganmore 12 year, Aberlour 10 year and Talkser.
Again whether its your first time or you love single malts, these tastings on a cruise ship are a great way to taste several brands for an extremely reasonable price.