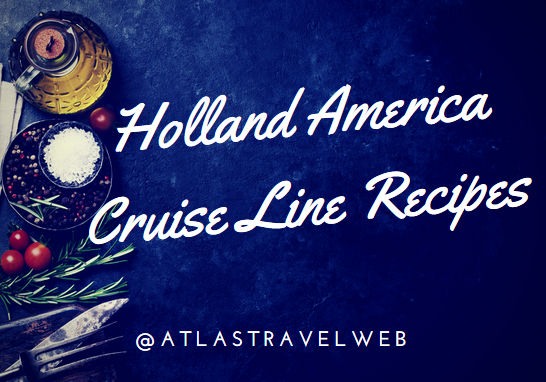 In a bold move that will enhance all aspects of Holland America Line's shipboard culinary operations, we have created the Holland America Line Culinary Council, which is composed of celebrated chefs from around the world. As Council members, the chefs will enrich Holland America Line's culinary initiatives and present signature recipes to be featured in all dining venues on all 15 ships.
The Culinary Council members include Council Chairman and Holland America Line's Master Chef Rudi Sodamin, along with renowned international chefs Jonnie Boer, David Burke, Marcus Samuelsson, Jacques Torres and Charlie Trotter.
"Bringing these icons and their diverse backgrounds to our guests places Holland America Line at the forefront of culinary initiatives within the industry," said Richard D. Meadows, CTC, executive vice president, marketing, sales and guest programs. "The Council's expertise and innovative guidance will touch every aspect of our shipboard food service, from the Lido Restaurant breakfast buffet to the dinner menu of the Pinnacle Grill and everything in between."
Besides sharing their insights on menus and culinary offerings, the Council will consult on the line's Culinary Arts Center enrichment program to help create new and even more innovative learning experiences for guests.
Browse popular Holland America Cruise Line Recipes
Holland America Culinary Council members include:
Council Chairman Rudi Sodamin is the creative culinary artist and master chef for Holland America Line. Internationally recognized as a food authority and one of the cruise industry's most innovative chefs, Sodamin is a member of the Academy Culinaire de France, Maîtres Cuisiners de France and Honorary Member Club des Chefs des Chefs. Sodamin has published several cookbooks, including the best-selling "A Taste of Excellence," "A Taste of Elegance" and "A Taste of Celebration."
Jonnie Boer is head chef at De Librije in Zwolle, recognized as one of the 50 best restaurants in the world, and only the second restaurant in the Netherlands to be awarded three Michelin stars. His catering company, Food on Tour, sells its own products, and in 2008 Boer and his wife Thérèse opened a new hotel with restaurant, as well as a cooking and wine school. The restaurant, Librije's Zusje, was awarded its first Michelin star within six months of opening. Boer was named a Knight in the Order of Orange Nassau in 2005, one of the Netherland's highest honors.
Blurring the lines between chef, artist, entrepreneur and inventor, David Burke, stands as a leading pioneer in American cooking today. His fascination with ingredients and the art of the meal has fueled a career marked by creativity, critical acclaim and the introduction of revolutionary products and cooking techniques. In addition to his flagship restaurant, David Burke Townhouse, Burke's other properties include Fishtail (New York, N.Y.), David Burke at Bloomingdale's (New York), Burke in the Box at McCarran Airport (Las Vegas, Nevada), David Burke's Primehouse (Chicago, Ill.), David Burke Fromagerie (Rumson, N.J.) and David Burke Prime (Foxwoods Casino, Conn.).
Blending culture and artistic excellence, Marcus Samuelsson has won numerous awards, and was chosen as one of the Great Chefs of America by the Culinary Institute of America. Born in Ethiopia and raised by adoptive parents in Sweden, Samuelsson's award-winning cookbooks connect contrasting geographies and palates. His best-selling "New American Table" cookbook celebrates local farms and kitchens. He is the winner of Bravo's "Top Chef Masters Season Two" and was guest chef at the White House for the Obama administration's first state dinner for Prime Minister Singh of India. His latest restaurant, Red Rooster, opens in Harlem in November 2010.
Jacques Torres is a former pastry chef at Le Cirque and Le Cirque 2000 in Manhattan. Born and raised in southern France, he has authored two cookbooks: "Dessert Circus: Extraordinary Desserts You Can Make at Home," which earned a 1999 James Beard nomination, and "Dessert Circus at Home." In 2000 he created Jacques Torres Chocolate, which specializes in fresh, hand-crafted chocolates, and he was featured in "Chocolate with Jacques Torres" on the Television Food Network.
One of the finest restaurants in the world, Charlie Trotter's in Chicago has helped establish new standards for fine dining. It has been recognized by national and international institutions and has won 10 James Beard Foundation awards, including Outstanding Restaurant and Outstanding Chef. Author of 14 cookbooks, Trotter hosts the award-winning cooking series, "The Kitchen Sessions with Charlie Trotter." He also operates Trotter's To Go, a gourmet shop, and produces a line of private-label organic products. Recognized as Humanitarian of the Year by the International Association of Culinary Professionals, Trotter's foundation raises money to support people seeking careers in the culinary arts.
The Council will meet regularly with Holland America Cruise Line executives, with the first meeting scheduled for later this year.