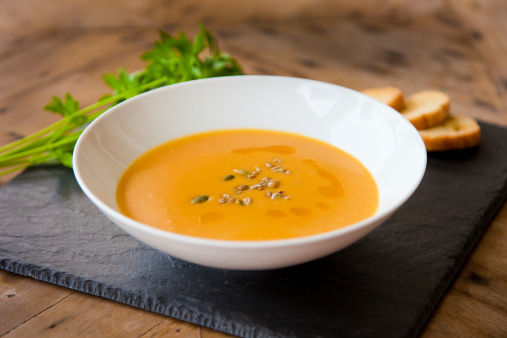 This butternut squash soup is creamy with a touch of sweetness, and pairs well with lots of different toppings.
Ingredients:
2 tbls Butter
2 tbls Shallots, chopped
1 tbls Garlic, chopped
½ cup Celery, chopped
½ cup Carrots, chopped
½ cup Onions, chopped
8 cups Butternut squash, peeled, chopped
1 pinch Thyme
1 pinch Basil
1 pinch Oregano
1 bay leaf
4 cups Chicken stock
16 ounces Heavy cream
Method:
1. In a 4-quart pot heat butter over medium heat until hot.
2. Add the next 10 ingredients.
3. Sauté for five minutes.
4. Deglaze the pot with the chicken stock.
5. Add the heavy cream.
6. Let soup simmer, uncovered, over low heat for 1-1/2 to 2 hours.
7. Puree in a blender.
8. Strain the soup through a strainer lined with cheesecloth.
9. Place soup back into a clean 4-quart pot.
10. Return the pot to the stove over low heat.
11. Adjust seasoning with salt and pepper and serve.
Be creative with your toppings!  Try crunchy croutons, shallots, chives, sour cream (plain greek yogurt is a health alternative,) apples, roasted pumpkin seeds, heavy cream, truffle oil or diced shrimp.