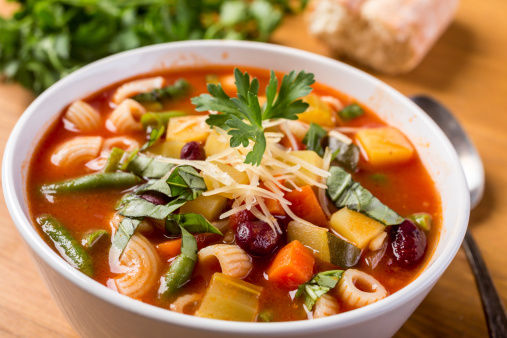 Another Foodie Friday Recipe from ReneeYemma.com.
Being a born and raised South Floridian, I'm not a huge fan of the winter cold. But, since having experienced real seasons (for the very first time!) in Virginia for three years, I now have an amazing appreciation for living in harmony with the seasons and seasonal eating. Warming foods are perfect for wintry, sunless days (and something I crave BIG TIME during the cold months!).
I love making soups in big batches so I can have them ready to go for the week and also to freeze so I can pull out on a later date when I'm not in the mood to cook lunch or dinner (or even breakfast!).
So this week I thought I'd feature Minestrone Soup.  I tell ya!  Once you make this from scratch,  you'll never want the canned version again.  It's that good!  And, SO easy!  The only time consuming part is cutting up your veggies.
If you don't get in the kitchen much and don't have ONE high quality knife, you'll want to get one because it will make your cooking and chopping experience so much better and so much more fun! If you truly want to reconnect with your kitchen, you've gotta buy a good quality chef's knife.  You don't need to buy the entire block. Just one will do.
So, what I've done today is really break down some of the veggie chopping process to make it easier for you when you cook this fabulous soup. I'm VERY visual and I know just how helpful pictures are when you're not really sure how to chop or even what to do next.
Alright! Let's get started! OH YEAH!!
Recipe from ReneeYemma.com – Minestrone Soup
Ingredients:
1 tablespoon of butter
1 leek, cleaned and chopped (use white and green parts)
6 garlic cloves, peeled and minced
2 carrots, diced
4 celery stalks, diced (depending on size, may only need 2 if they're big)
2 leaves Swiss chard, chopped
1 can of red kidney beans (or 1 and 1/2 cups fresh beans)
1 can diced tomatoes
5 cups chicken stock (can substitute with beef, vegetable, turkey, etc.)
1 to 2 tablespoons tomato paste
1/2 cup quinoa elbow past or other pasta (not cooked)
1 1/2 teaspoon sea salt
1 teaspoon dried thyme leaves
1/2 teaspoon dried rosemary leaves
1 teaspoon pepper
Parmigiano Reggiano cheese (optional)
Directions:
1.  In a soup pot, heat butter and saute leek for 2 to 3 minutes.
2. Add garlic, carrots, celery, tomatoes, stock, tomato paste, salt, thyme, rosemary and pepper.
3. Cover and cook over medium-high heat for 5 to 7 minutes.
3.  Add pasta, beans and Swiss chard.
4.  Bring to a boil over high-medium heat.  Once it boils, reduce heat to low and cook for 10 to 12 minutes.
5. Place in your favorite soup bowl and garnish with Parmigiano Reggiano cheese.
6. Turn off all distractions, sit down with your family, take a few deep breaths, say how much gratitude you have for your food and your family and dig in, slowly!
Recipe adapted from my fabulous mentor Andrea Beaman.
For compete step-by-step instructions with photos go to : Minestrone Soup instructions
©  2011 Renee Yemma ® All Rights Reserved.
Renee C. Yemma, Holistic Health Coach, is founder and director of Get Inner-gized with Renee.  She is a mother, writer, teacher, coach, photographer and so much more.  To receive weekly healthy living articles on loving delicious, nutritious foods and putting YOU first without feeling guilty about it, visit www.reneeyemma.com.