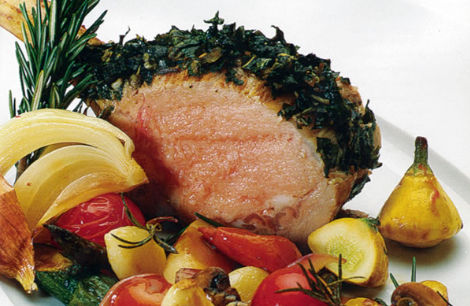 Holland America Line's Culinary Arts Center program, presented by Food & Wine Magazine, is a groundbreaking program that integrates guests' love for fine food and wine with a unique and entertaining experience. Immerse yourself in the unique traditions and tastes of the ports of call you will visit. Sample fine wines from around the world or learn to make a new gourmet dish in a hands-on cooking class taught by our own Master Chefs or Culinary Guests.
Rack of Veal with Roasted Vegetables and Thyme Glaze
(from A Taste of Excellence, Rudi Sodamin)
Yield: 4 Servings
When you want to serve something special – really special – at home. It's got to be rack of veal. It's such a fancy cut, you should order it in advance from a butcher.
Ingredients

1 (7-bone) rack of veal (about 5 pounds), frenched
2 tablespoons freshly ground black pepper, plus extra to taste
2 tablespoons freshly ground black pepper, plus extra to taste
2 tablespoons fresh thyme leaves, plus 1 cup chopped fresh thyme
¼ cup chopped fresh parsley
2 tablespoons finely minced garlic

¼ cup olive oil
2 cups white wine
2 tablespoons unsalted butter
3 large shallots (about
⅔ cup), chopped
2 tablespoons sherry vinegar
4 cups veal stock reduced by
half with ½ tablespoon tomato
paste
1 bay leaf
Roasted vegetables, optional
For the Veal
Preheat oven to 500°F. Pat veal dry thoroughly with paper towers (veal is a very moist meat and you want it to brown rather than steam).
In a small bowl, combine salt, pepper, 2 tablespoons thyme leaves, Parsley, garlic, and olive oil.
Rub veal thoroughly with this mixture, pressing herbs to adhere, and place it in a roasting pan. Transfer to oven and roast for about 20 minutes, or until well browned.
Reduce oven temperature to 300°F. Roast veal for 20 to 40 minutes more.
Inserting an instant-read thermometer in the thickest part of the meat to determine the doneness you prefer (126°F for medium rare. 134°F for medium, or 150°F for medium-well). Remove pan from oven.
Transfer veal to a warm platter, and allow to rest for 10 minutes, tented with foil.
For the Sauce
Tilt roasting pan and spoon off and discard any fat, leaving drippings behind.
Place pan over medium heat and add wine, stirring to dissolve any solids stuck in the bottom of the pan. Scrape contents of pan into a large glass measuring cup or a medium saucepan; reserve.
Heat butter in skillet over medium heat. Add shallots and cook, stirring, until starting to turn brown, add 1 cup chopped thyme and cook, stirring, for 30 seconds. Add reserved pan drippings and vinegar, reduce liquid by half. Add veal stock reduction and bay leaf. Simmer until sauce thickens and coats the back of a spoon. Pour any collected juices from veal roast into sauce in skillet; heat through, about 1 minute. Season with salt and pepper and strain into a saucepan; keep warm.
To Serve
Cut veal into chops and divide among warmed plates. Spoon sauce over and around chops and serve immediately with roasted vegetables, if desired.