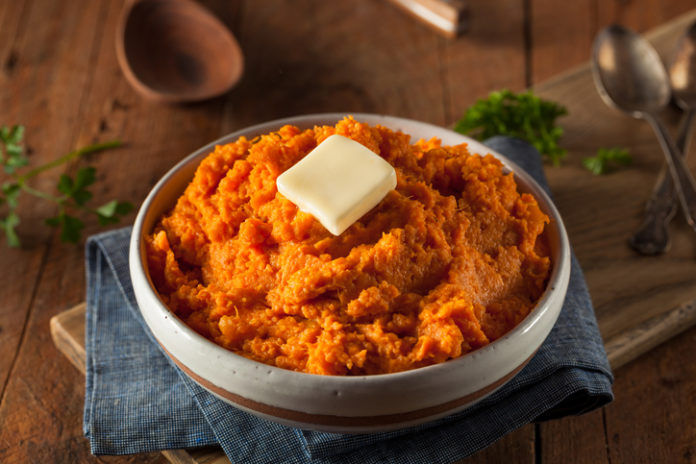 Rocco Dispirito, best selling author of "Now Eat This," just shared this Sweet Potato casserole recipe in Facebook.  I say superfood. It's arguably the most healthy vegetable on earth. The sweet potato's orange color is a dead giveaway of its high vitamin A content (in the form of beta-carotene). Plus, it's loaded with potassium, vitamins C, folic acid, and fiber. With a lower rating on the glycemic index than white potatoes, sweet potatoes are an excellent substitute if you're watching your weight or trying to control your blood sugar levels.
*TIP: Microwaving, steaming, or baking sweet potatoes preserves more nutrients than boiling them in water. Vitamins can leach out into the water. Leave the skin on the potatoes if you like.
A typical sweet potato casserole would normally be around 498 calories and 27 grams of fat…this one is just 237 calories and 5 grams of fat.  You can cut the calories even further – by ommitting the chips you save 122 calories.
INGREDIENTS
| | |
| --- | --- |
| | Nonstick cooking spray |
| 1 | medium sweet potato |
| 1½ | teaspoons extra-virgin olive oil |
| 1 | medium red onion, cut into small dice |
| | Salt |
| | Freshly ground black pepper |
| 1 | garlic clove, minced |
| 2 | cups liquid egg substitute |
| 1 | tablespoon chopped fresh basil |
| 4 | ounces baked blue corn chips, such as Guiltless Gourmet |
PER SERVING
237 calories 5g fat (0g sat / 1.4g mono / 0g poly) 0mg cholesterol 504mg sodium 35g carbohydrates 3.5gg fiber 16g protein
METHOD
| | |
| --- | --- |
| 1 | Preheat the oven to 475°F. Spray an 8 x 8 x 2-inch baking dish with cooking spray, and set it aside. |
| 2 | Prick the skin of the sweet potato with a fork and microwave on high till it is soft and tender, about 5 minutes, turning halfway through. Allow to cool. |
| 3 | Heat a large nonstick sauté pan over medium-high heat. When hot, add the olive oil to the pan. Add the onions and cook until the onions begin to soften, about 5 minutes. Season with salt and pepper to taste. Add the garlic and cook for another 2 minutes. Set aside. |
| 4 | In a small bowl, add the egg substitute and season with salt and pepper to taste. |
| 5 | Remove the skin of the sweet potato and slice it crosswise into ½-inch-thick slices. Layer the potatoes into the bottom of the prepared baking dish. Spread the onions on top, and then pour the egg substitute into the dish. Scatter the basil on top. |
| 6 | Transfer the dish to the oven and bake until the eggs are completely set, about 15 to 18 minutes. Serve with baked blue corn chips. |