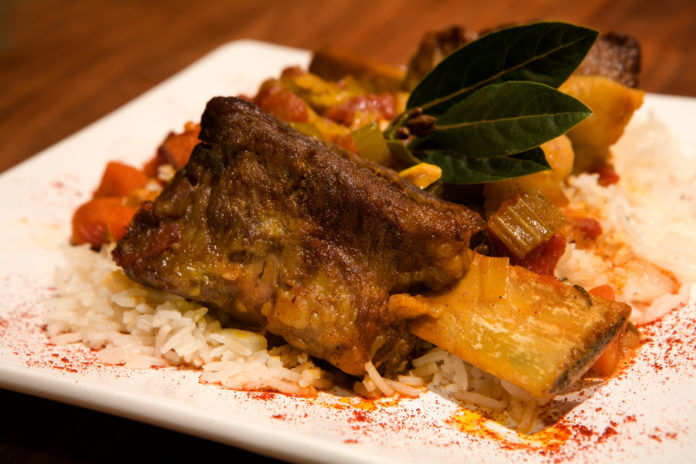 Braised Short Ribs – This recipe came about from watching way too many cooking shows one lazy Sunday. These Beef Short Ribs are amazingly tender and remind me of a pot roast. I hope you enjoy and please let us know if you like the recipe.
Ingredients
* 6 beef short ribs, trimmed of fat – (the butcher cut about 8 ribs in total just for a little extra)
* Kosher salt and freshly ground black pepper
* 1/4 cup olive oil
* 1 cup chopped onion (1 onion)
* 4 cups diced celery (close to 6 large stalks)
* 3 carrots, peeled and large-diced
* 1 small fennel, fronds, stems, and core removed, diced (large pieces are fine)
* 1 leek, cleaned and diced (large pieces are fine), white part only (don't use the green leafy part)
* 5 garlic cloves, finely chopped
* 1 (750-ml) bottle dry red wine (we used a Pinot Noir from France)
* 7 cups beef stock (we used a low sodium organic brand)
* 2 tablespoons brown sugar
Variation: Fresh rosemary and thyme sprigs can be added but we did not use them.
Directions
Preheat the oven to 400 degrees. Place the short ribs on a sheet pan, season with salt and pepper, and roast for 20 minutes. Remove from the oven. Reduce the oven temperature to 350 degrees for the next phase of the recipe.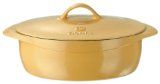 While the ribs are in the oven heat the olive oil in a large Dutch Oven
and add the onion, celery, carrots, fennel, and leek and cook over medium-low heat for 15-20 minutes, stirring occasionally. Add the garlic and cook for another 4 minutes. You can then pour the wine over the vegetables, bring to a boil, and cook over high heat until the liquid is reduced by half, about 10 minutes. Add 1 tablespoon salt and 1 teaspoon pepper.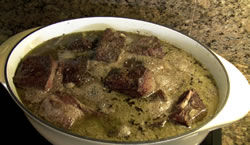 Place the roasted ribs on top of the vegetables in the Dutch oven and add the beef stock and brown sugar then stir. Bring to a simmer over high heat. Once it simmers for 10 minutes – cover the Dutch oven and bake for 2 hours at 350 degrees or until the meat is tender.
Once it has been 2 hours – carefully remove the short ribs from the pot and set aside. Skim the excess fat from the top of the liquid in the dutch oven. Cook the vegetables and sauce over medium heat for 20 minutes, until reduced. Once reduced put the ribs back into the pot and heat for at least 5 minutes or until the beef gets to a warm temperature. Serve with the vegetables, sauce and we also served this with a Jasmine Rice and asparagus.
We also made a quick video of our cooking process in case you wanted to see it ! Beef Short Ribs