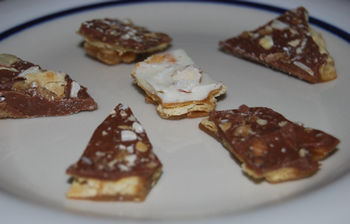 Ok I admit this is one of my secret holiday indulgences – but why does it just have to be once a year. Here is our favorite recipe to share with you.
Ingredients
1 pack of saltines (a sleeve)
2 sticks of butter
1 cup of brown sugar
1 small bag of milk chocolate chips (we also use white chocolate chips)
chopped nuts (we have used slivered almonds, pecans or your favorite nut)
Directions:
Preheat your over to 400 degrees.
First, line a baking sheet with aluminum foil and add a layer of saltines.
Next, in a small pot add the sugar and butter and bring to a boil – for 3 minutes – make sure to stir frequently.
Pour the sugar and butter mixture over the saltine crackers and bake in the oven for 7 minutes.
After they are done baking – remove from the oven and sprinkle the chocolate chips over it (we like to use both white and milk chocolate chips). Wait a few minutes for the chocolate to melt – then spread the chocolate out evenly. Next, add the chopped nuts of your choice. Refrigerate for at least 3 hours after which you break them into small pieces. In my opinion they taste best out of the refrigerator – so keep them cold !