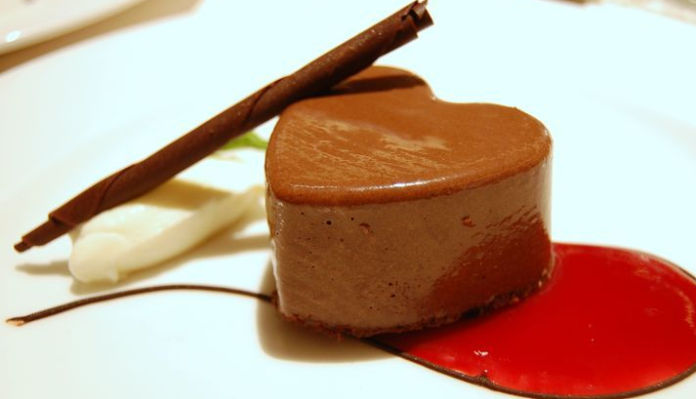 Love Boat Dream Dessert Recipe Princess Cruises
This is a rich, fluffy mouse flavored with Godiva liquer served by Princess Cruise Line. This recipes makes 8 servings.
Ingredients
1 pound bittersweet chocolate
8 ounces sweet butter
6 large egg yolks
8 egg whites
3 ounces lady Godiva chocolate liqueur
1/2 cup superfine sugar
3 tablespoons vanilla-flavoured sugar
Garnish
16 fresh mint leaves
1 ounce white chocolate
1 ounce milk chocolate
2 tablespoons strawberry piping gel
2 tablespoons bittersweet cocoa
Melt the chocolate in a double boiler. Remove from heat and add the butter. When the mixture is very smooth, quickly blend in the egg yolks and the chocolate liqueur.
Whisk the egg whites until very still, and then add the superfine sugar and flavoured sugar.
Gently fold the egg white mixture into the chocolate mixture. Pour into a heart shaped mold and refrigerate for at least 12 hours to set.
Presentation
Unmold the chocolate and place in the center of the plate. Garnish with white chocolate and milk chocolate. Pipe strawberry gel around the plate. Dust mousse with cocoa powder and garnish with fresh mint leaves.