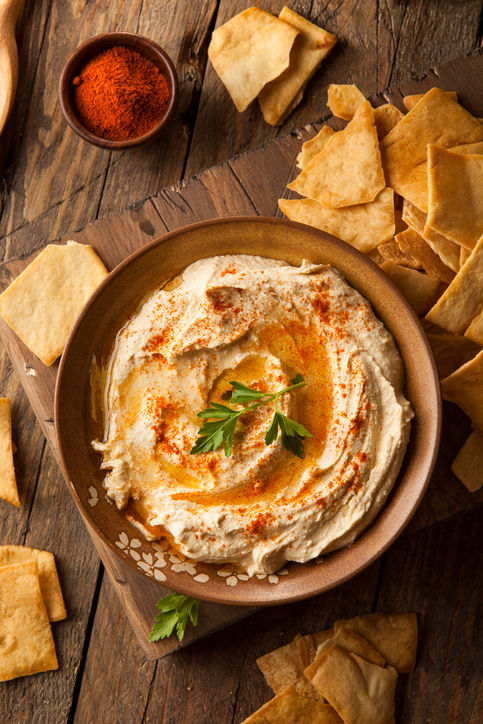 Try this Macadamia Nut Hummus from Norwegian Cruise Line.  I've tried to make several hummus recipes at home, and the taste just wasn't there.  This hummus was garlicky.  Although it's good on its own, the relish was a nice touch.  Perhaps the tahini was the secret ingredient I had been missing.  NCL serves it with Taro chips.  There is a brand called Terra that sells them in major groceries stores here in South Florida.  If not, fresh pita or pita chips works well also.
Ingredients

2 1/2 cups chickpeas
1/2 cup macadamia nuts
6 tsp tahini (this is a paste made from ground sesame seeds) Whole Foods carries it if you are having trouble finding it
4 tsp cumin
4 garlic cloves
1/2 cup lemon juice
8 tbsp olive oil
Pineapple Relish

1 lb pineapple, cut into 1/4-inch cubes
10 oz olive oil
2 garlic cloves, chopped
1 cup parsley, chopped
4 oz onion, finely diced
4 oz green bell pepper, finely diced
4 oz red bell pepper, finely diced
2 oz cucumber, finely diced
1 tbsp chili, finely diced
4 oz lime juice
Directions:
Preheat over to 400 degrees.  Place all hummus ingredients in a food processor and blend to a smooth paste; season to taste with salt and pepper. Refrigerate while making your relish.  Pour 4 ounces of the olive oil, garlic and 1/2 cup of the parsley onto pineapple. Mix and spread evenly onto baking trays. Cook in over for 20 minutes.  Let cool. Do not discard the juices released from the pineapple.  Mix remaining 6 ounces of olive oil, 1/2 cup of parsley and all other ingredients in large bowl. Add pineapple and juice.  Season to taste with salt and pepper.  Serve as a topping to the hummus.