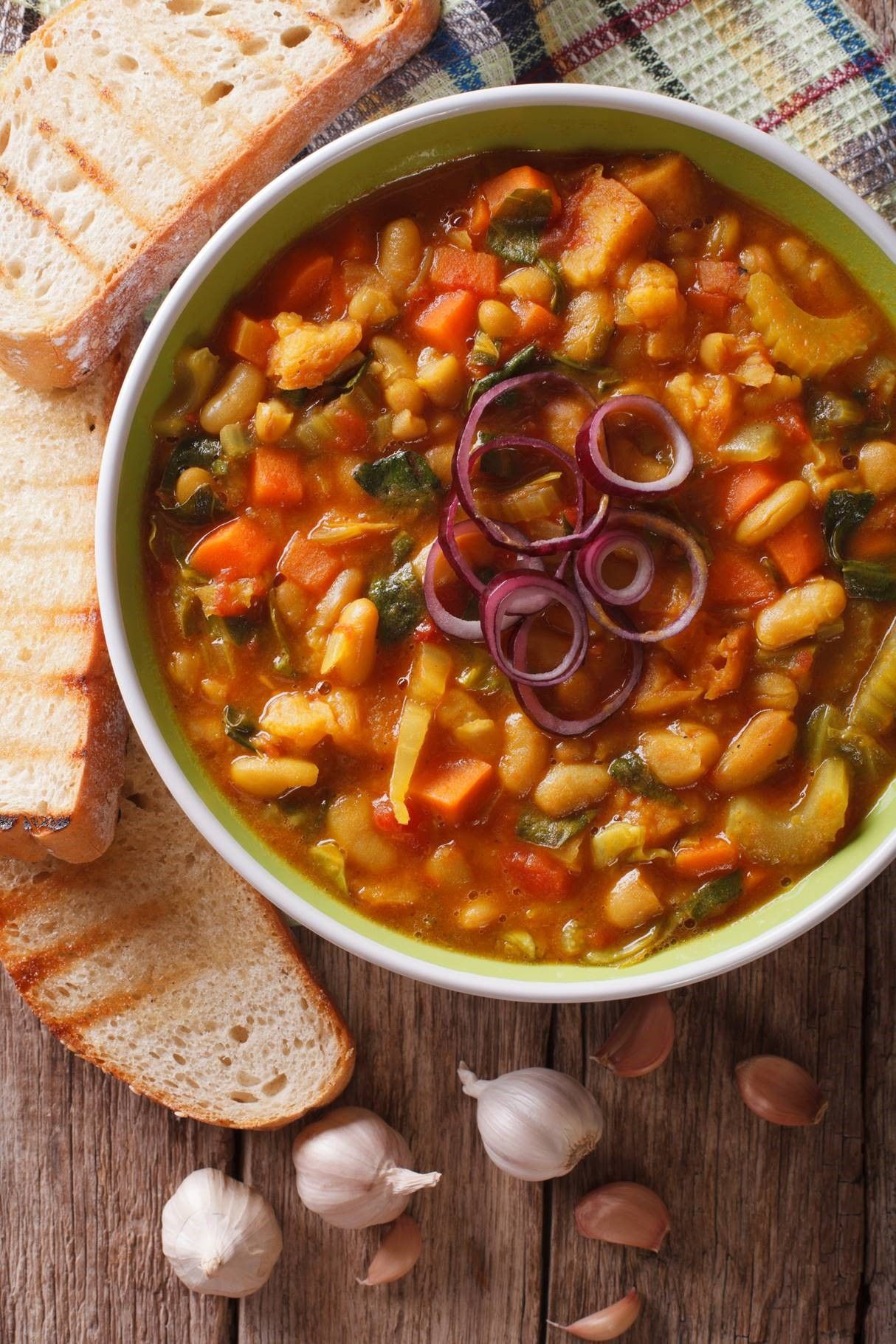 Simplicity is central to the Tuscan cuisine.  Legumes, bread, cheese, vegetables, mushrooms and fresh fruit are widely used.  A good example would be ribollita, a notable Tuscan soup whose name literally means "reboiled."  High quality beef, used for the traditional Florentine steak, comes from the Chianina cattle breed of the Chiana Valley.  The region is well known also for its rich game, especially wild boars and pheasant that often are used to prepare pappardelle dishes.
Regional desserts include pan forte (prepared with honey, fruits and nuts,) ricciarelli (biscuits made using an almond based with sugar, honey and egg white,) and cavallucci (cookies made with almonds, candied fruits, coriander, flour and honey.)
Here's an easy Ribollita Recipe.
Ingredients:
3 garlic cloves, peeled and smashed
1 small onion, peeled and roughly chopped
1 carrot, peeled and chopped
1 celery stalk, chopped
4 ounces pancetta or ham, chopped
1/2 cup olive oil
1 – 15 ounce can whole peeled tomatoes
3 – 15 ounce cans cannellini or great northern beans, drained and rinsed
2 cups chicken broth
1 sprig fresh rosemary, roughly chopped
1 bunch kale, roughly chopped
1/2 cup toasted bread crumbs
Grated parmesan
Directions:
In a large pot over medium heat, sauté the first five ingredients in 2 tablespoons of the olive oil for 5 minutes.
Add the tomatoes and their juices, along with the beans, broth and rosemary.
Simmer, covered, until the beans break apart, which takes about an hour.
Add the kale and cook for 5 to 7 minutes more.
Stir in the bread crumbs and serve, drizzled with the remaining olive oil and sprinkle with the cheese.