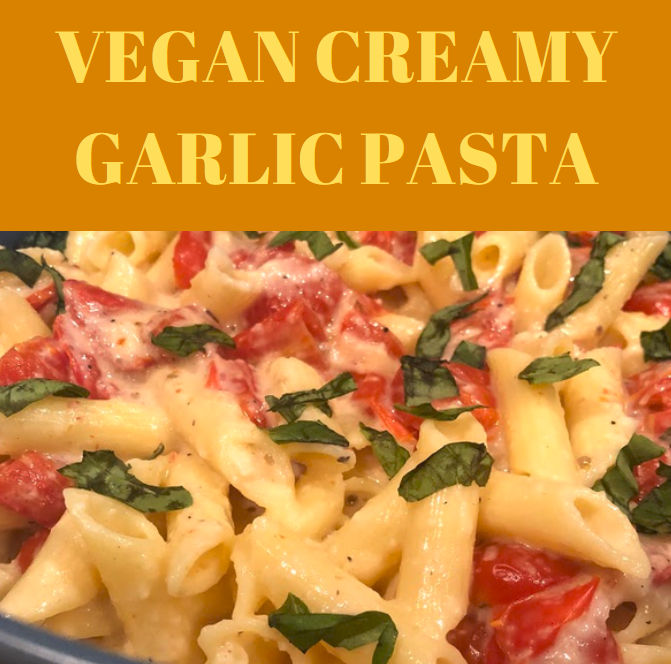 So our family is full of special dietary needs – from Celiac / gluten free, to lactose intolerance, along with a vegan. This can make our weekly Sunday family dinners complicated. Yes of course we can all cook various dishes, but our goal is to have one main dish that all can enjoy.

We made this pasta recently, and it was a big hit! I will say that we love garlic, so feel free to adjust, but we used quite a bit to flavor the sauce.

Ingredients
3 cups Roma tomatoes halved (we bought a mini San Marzano tomato bag)
1 12 ounce box of pasta (we used gluten free Barilla penne)
Olive oil
2 medium shallots (about a 1/2 cup)
1 tblsp Earth Balance (or other vegan butter)
8 cloves of garlic (6 cloves need to be roasted whole, 2 cloves need to be diced)
Sea salt & pepper to taste
3 to 4 tblsp corn starch (or thickener of choice)
2 1/2 cups plain Almond Breeze
Vegan Parmesan cheese
Italian seasoning*
Fresh basil leaves (chiffonade)

*We happen to be lucky enough to still have a pizza seasoning we purchase in Tuscany last year, but any Italian seasoning should be fine. Ours has crushed red pepper in it for just a hint of spice, so considering adding that if your Italian seasoning does not include it.

Preparation

Start by cutting your tomatoes in half and placing them in the oven with olive oil. We didn't use an exact measurement of olive oil, but rather made sure we covered all of the tomatoes & mixed them well with our hands to make sure they were coated. We also threw in 6 garlic cloves & roasted them along with the tomatoes. Sprinkle them with sea salt & black pepper & roasted in the oven at 400 degrees for 20 to 25 minutes. Keep in the warm oven (but turned off,) until you are ready to use them.
Fill a large pot with water & salt to taste. Follow the directions on the pasta box. We left ours a bit al dente, since we reheated the pasta in a pan with the sauce.

Dice your shallots & remaining garlic cloves. Cook in a pan over medium heat in vegan butter (or olive oil.) Cook until translucent. We cooked ours a little longer until they caramelized slightly.

Stir in 3 to 4 tblsp corn starch. (Start with 3 and then based on the thickness of your sauce when you are done adding the almond milk, you can always add more.) Slowly whisk in the almond milk to avoid clumps from forming. This becomes key if you don't plan on mixing everything together in a blender. Add salt & pepper to taste.

We took the sauce along with the roasted garlic and some Parmesan cheese and used the blender to make it smooth. We then put the sauce back in the pan and cooked over low heat until desired thickness & taste. This is also where we added our seasoning blend from Italy.

Drain the pasta & add to the sauce, along with your warm roasted tomatoes. Sprinkle some of the basil & toss together.

Serve right away with additional fresh basil & pepper to taste.

Pair with your favorite veggies & garlic bread. We used a gluten free baguette (Against the Grain is our favorite,) with vegan butter and spread some roasted garlic on it.