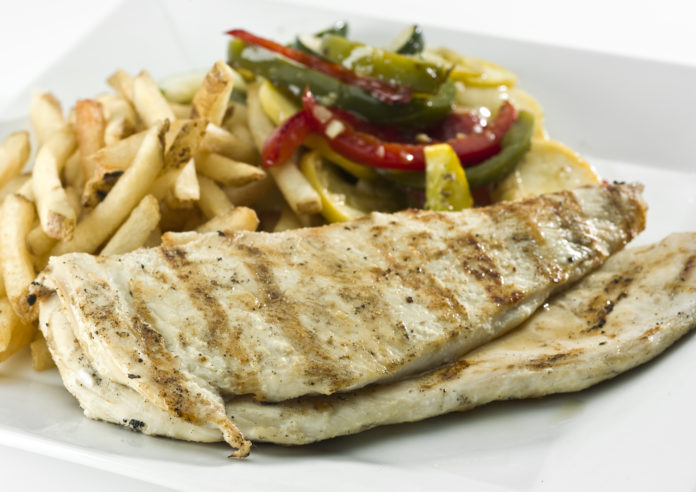 4 chicken breasts, boneless and skinless
1 Ziplock freezer bag
pinch salt and pepper
1 large garlic clove, minced
2 shallots, minced
½ pound linguine or your favorite pasta
4 tablespoons olive oil
12 white or cremini mushrooms, sliced
2 tablespoons Brandy (or Cognac)
4 tablespoons Chardonnay (or other dry white wine)
½ cup chicken stock
1/2 cup heavy cream
2 roma tomatoes, peeled, seeded and chopped
6 basil leaves, cut into very thin strips
salt and pepper
–Cut off 2 sides of the freezer bag. Rub lightly with olive oil. Place the chicken breast between the two pieces of plastic. Pound with a mallet until ¼'' thick. Repeat with the other three breasts. Season with salt and pepper.
Cook pasta until al dente in boiling salted water. Drain well and place under cold running water until cold. Toss with a little olive oil to prevent sticking.
Heat a large sauté pan until quite hot. Add the olive oil, and the chicken. You may need to do this in batches if the pan isn't large enough. Saute both sides until the chicken is cooked through. Remove and keep warm. Add the shallots, garlic and mushrooms.  Cook until the mushrooms are soft. Deglaze the pan with brandy. Watch for flames! You may want to remove from the heat when you add the brandy and then place back on the stove.  Add the wine and reduce by half then do the same with the chicken stock.   Add the tomatoes, basil and heavy cream. Cook a few minutes to desired thickness.  Season with salt and pepper. Add the pasta to reheat. Serve along with the chicken paillards.
Makes 4 servings