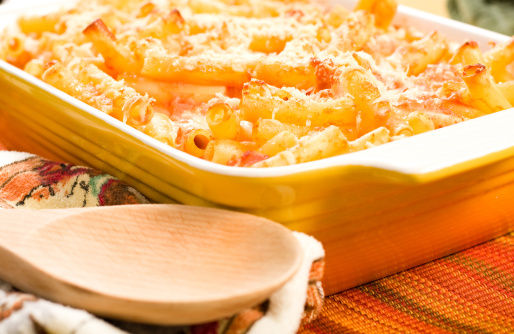 I am always on the look out for ways to make the food that we eat more healthy and this baked ziti recipe was a hit – even with the kids ! Instead of your typical ricotta mixture we substituted cottage cheese in its place. Not only did we reduce the fat and calories but we made it healthier and easy to digest.
Healthy Baked Ziti Recipe with Cottage Cheese
4 cups Spaghetti Sauce (we used jar sauce)
1 Box of Ziti Noodles (we used whole wheat)
4 cups of 1% cottage cheese (medium container)
2 large eggs, lightly beaten
2 cups Shredded Mozzarella
1 cup Grated Parmesan Cheese
1 tsp. dried oregano
1 tsp. dried basil
1 tsp. Salt
1/4 tsp. Ground Black Pepper
9″x13″ Glass Baking Dish
Aluminum Foil
Center a rack in the oven and preheat the oven to 350° F.
Combine and Whisk cottage cheese, eggs, oregano, basil and 1 cup Parmesan together in a medium bowl; season with salt and pepper, then set aside.  Bring a large pot of water to boil.  Stir in 1 tablespoon salt and the pasta; cook until pasta as directed on the box or about 6-8 minutes.  Drain the pasta and leave in colander.
Once the pasta has cooled mix the pasta, sauce and cottage cheese, eggs, oregano, basil and Parmesan all together. Spread some sauce on the bottom of a 9″x13″ glass baking dish. Pour the mixture into the glass dish.  Cover with aluminum foil and bake for 30 minutes until hot and bubbly. Remove foil and top with Mozzarella cheese and bake another 10 minutes until lightly browned. Serves 8-10