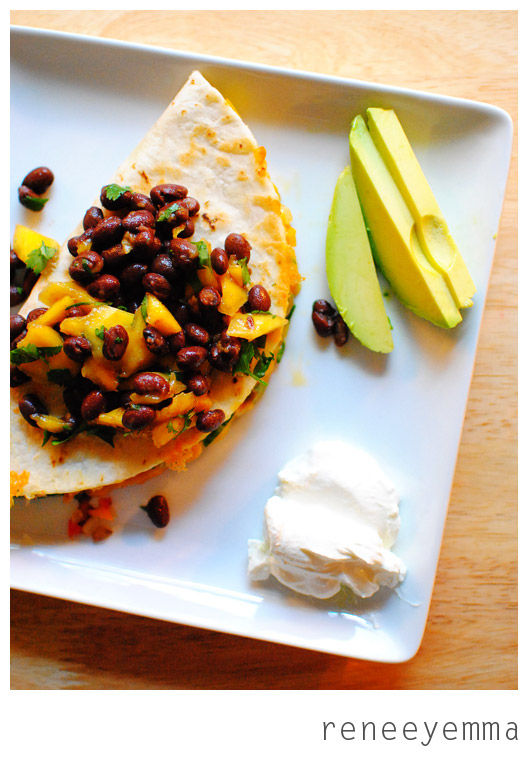 Our good friend Renne ReneeYemma.com is back with her {foodie LOVES friday} post and this time it is a recipe for "Quesadilla + Black Bean Mango Salsa". For complete step by step instructions with amazing photos for this recipe visit : http://reneeyemma.com/2011/06/quesadilla-black-bean-mango-salsa/
Chicken Quesadilla with Black Bean Mango Salsa
Ingredients (Black Bean Mango Salsa)
1 can black beans (rinsed) or make your own from scratch!
1 mango (chopped)
1 handful of cilantro (chopped)
1 lime (freshly squeezed)
Directions (Black Bean Mango Salsa)
1. You'll want to have this prepared ahead of time so it will be cool and refreshing.
2. Rinse black beans.  Place in bowl.
3. Peel and chop mango.  Add to bowl.
4. Chop handful of cilantro.  Add to bowl.
5. Squeeze lime into bowl.
6. Mix all together and then place in refrigerator to chill.
Ingredients (Quesadilla)
Tortillas of your choice
Chicken meat of your choice (I used dark) ~ for this dish I used 2 chicken thighs and chopped finely
1/2 of a red, orange, yellow pepper (chopped finely)
1/4 of an onion (chopped finely)
1 to 2 handfuls of spinach (chopped)
1 to 2 cloves of garlic (minced)
1 avocado (sliced)
1 to 2 tablespoons sour cream
1 to 2 tablespoons olive oil
dash of salt and pepper
Directions (Quesadilla)
1. Heat pot to medium heat.  Add olive oil.
2. Add chicken (cook for 5 to 10 minutes).  Then place on the side.
3. Add onion, peppers, garlic, salt and pepper.  Saute for 5 minutes or so.
4.  Add chicken back to veggie mix.
5. Heat another skillet to medium heat for tortilla's.
6. Add a touch olive oil to skillet.  Spread around so it covers entire skillet.
7.  Once heated enough, place tortilla in skillet.
8. Add cheese to one side.
9. Add spinach on top of cheese.
10. Add chicken and veggie mixture on top of cheese.
11. Add some more spinach to that (if you'd like).
12. Add some more cheese on top.
13. Fold over the tortilla with spatula.  Press down once folded.
14. Let it cook for about 5 minutes.  Flip.  Cook other side for same amount of time.
15. Place onto your most lovely serving dish.  Add black bean mango salsa to top.  Add avocado and sour cream to the side, and then place at your lovely seat to be eaten.
16. Turn off all distractions, sit down by yourself or with your family, take a few deep breaths, say how much gratitude you have for your food, your family, your life and dig in, slowly and savor the deliciousness!
©  2011 Renee Yemma ® All Rights Reserved.
Renee C. Yemma, Holistic Health Coach.  She is a mother, writer, teacher, coach, photographer and so much more.  To receive weekly healthy living articles on loving delicious, nutritious foods and putting YOU first without feeling guilty about it, visit www.reneeyemma.com.