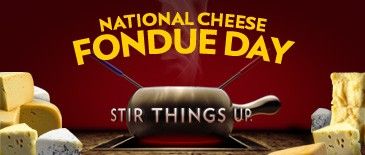 Hmmm…National Cheese Fondue Day….why not?  Visit Melting Pot restaurants on April 11th and help raise money for charity.  The Melting Pot is donating $10 from every cheese fondue purchase on April 11 to local charities across North America in honor of National Cheese Fondue Day. Help make a difference in our communities by supporting over 100 charitable organizations.
Visit meltingpot.com/locations to see if The Melting Pot near you is participating in this cheesy event.
While you're there, why not try the new limited time menu: Pacific Islands Big Night Out. Menu includes Feng Shui cheese fondue, lettuce wraps with mandarin-orange ginger dressing, as well as Kiwi Lime shrimp, garlic chili chicken breast, sesame crusted teriyaki sirloin, citrus infused pork tenderloin, sushi style ahi tuna and spring vegetable dumplings.  For dessert, Passion Fruit Yin and Yang fondue which is a combination of dark chocolate swirled together with red passion fruit-infused white chocolate.