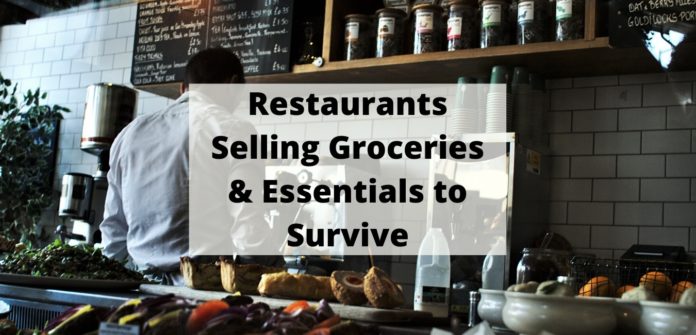 These are different times. Businesses are having to evolve in order to stay open. Restaurants are struggling. Ninety-seven percent of restaurants nationwide are now operating under restricted rules due to the coronavirus. This is causing transactions to drop compared to last year. To boost revenue restaurants have begun selling grocery items alongside their usual menu.

Here are some of America's largest chains offering supermarket-style goods.
Subway will sell you what you need to make your favorite subs. Start with their fresh baked breads including 9 grain wheat, Italian, parmesan oregano, rosemary & sea salt or their Italian Herbs & cheese. Next you can load up on fresh veggies including cucumbers, green peppers, lettuce, red onions, spinach & tomatoes. Some locations also have banana peppers, jalapenos, black olives pickles, carrots & guacamole. Then choose your cheeses from American, Monterey Cheddar, Feta, Mozzarella, Pepperjack, Provolone or Swiss. Last but not least you can add condiments. Choose from Chipotle Southwest, Light or Regular Mayonnaise, Ranch, Oil, Subway® Vinaigrette, Mustard, Vinegar & Sweet onion. Some locations also have BBQ sauce, buffalo, creamy Italian, honey mustard & savory Caesar.

California Pizza Kitchen introduced CPK Market, which features CPK Meal Kits like a lettuce wrap kit and build your own pizza kits for kids. They are also offering milk, rice flour, meat, dry pasta, mahi mahi, steak, Goldfish crackers and beer. We tried the lettuce wrap meal kit and it was amazing! We chose to add some cooked onion and cilantro, but it tasted great with all of the ingredients they included and it was something fun and different to make for dinner.
Panera is offering fresh baked bread, bagels, milk, avocado, blueberries and produce online for delivery or store pick-up. They have over 2,000 locations to choose from.

Perkins is another chain offering toilet paper, along with meat, bread and cheese.
Cracker Barrel just starting a new program selling groceries & games. You can purchase their coffee, pancake mix, fried apples, syrup, biscuit & dumpling mix, corn muffin mix, Hershey chocolate bars, MoonPie & pecan logs. For games you can purchase their peg game or 3 in 1 jumbo checkers. They also offer take & bake on many popular dishes include fried apples, hashbrown casserole, mac & cheese and baby carrots. Of course you can also choose from their regular menu and family meals.
TOOJAY'S Deli is now offering groceries to go. Their menu includes the much sought after toilet paper and paper towels, as well as chicken breasts, whole chickens, game hens, eggs by the dozen, ground beef, hot dogs and salmon. They have a limit of 4 on toilet paper and 2 on paper towels, but you can still enjoy their sliced meats, cheeses, breads and salads.

Other restaurants are preparing boxes of produce for pick up at specific times. Make sure and check with your locally owned restaurants to see what they are offering. On Facebook you can find socially distancing restaurant groups that will keep you informed. Many restaurants also offer steaks, chicken and seafood to prepare at home at great prices, as well as toilet paper, hand sanitizer and more. Many of the restaurants-turned-grocery stores are offering "contact-free" service in which the customer place orders by phone or online and the goods are delivered straight to the trunk or backseat of the car.

Not only are restaurants benefiting from this, customers are as well. They are looking for new and creative at-home cooking solutions with family mealtime being more important than ever. People need a place to purchase affordable produce, meat and other essential pantry items with delicious food options available.