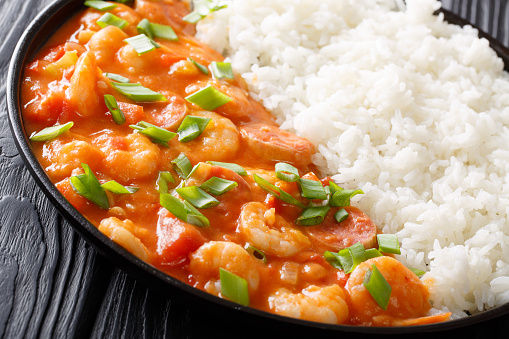 Enchilado de Camarones Recipe
Spanish style shrimp in a delicious tomato sauce.
Ingredients
2 pounds of shrimp peeled & deveined
1/4 cup olive oil
1 white onion chopped
8 cloves garlic minced
1 green pepper chopped
1/4 cup fresh parsley chopped
1 – 8 ounce can tomato sauce
3 tablespoons tomato paste
1 – 4 ounce jar pimentos
1 1/2 cups white cooking wine (vino seco)
3 tablespoons vinegar
2 bay leaves
1 teaspoon kosher salt
1 tablespoon black pepper
1 1/2 teaspoons cumin
1 1/2 teaspoons oregano
1/4 cup water
Directions:
Saute onion and green pepper in olive oil over medium heat for 5 minutes. Add minced garlic and cook an additional 2 minutes. Take pimentos with the water they come in and puree. Add pureed pimentos, parsley, can of tomato sauce, tomato paste, water, bay leaves, cooking wine, cumin, oregano, salt and pepper. Cook over medium heat for 15 minutes. Add shrimp and cook 20 to 25 minutes. Serve over white rice or pasta.
Tips:
If you don't want to open a can of tomato paste for just 2 tablespoons, use 1/4 cup of your favorite jar sauce you already have on hand.
I use 20-25 count shrimp. You can certainly use any size you'd like (2 pounds total if you don't want to have to adjust the sauce)
Buy shrimp that is peeled & deveined if you want to save about 20 minutes.
You can add chorizo or Andouille sausage while cooking your onions and peppers, to change the dish up a bit.
Serve over white rice.