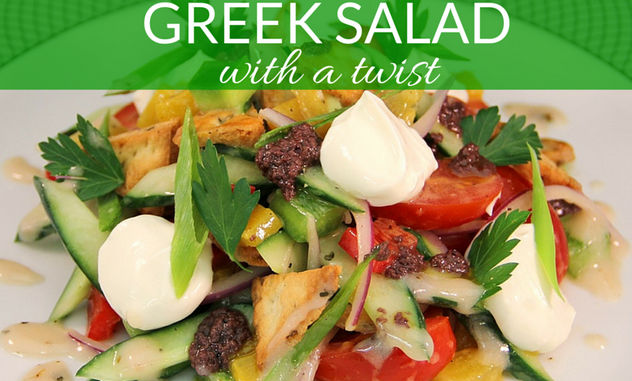 Here is a Greek Salad recipe from Executive Chef Robert van Rijsbergen of Azamara Club Cruises.  In this salad, Robert uses olive tapenade instead of regular olives, uses creamy feta instead of cubes of cheese, and chops vegetables on an angle rather than dicing.
Greek Salad With A Twist (Makes Six Servings)
Salad Ingredients:
1 cucumber, unpeeled, seeded, and sliced 1/4-inch thick in an angle
1 red bell pepper, large-diced
1 green bell pepper, large-diced
1 yellow bell pepper, large-diced
1 cup cherry or grape tomatoes, halved
1/2 red onion, julienned
5 scallions, sliced on an angle
1/2 pound feta cheese, blended until creamy (you can add a little sour cream)
1/2 cup olive tapenade
Small bunch flat parsley
Rosemary or thyme croutons
Vinaigrette Ingredients:
2 cloves garlic, minced
1 teaspoon dried oregano
1/2 teaspoon Dijon mustard
1/4 cup good red wine vinegar
1 teaspoon kosher salt
1/2 teaspoon freshly ground black pepper
1/2 cup extra virgin olive oil
Directions: 
Place the chopped cucumber, peppers, tomatoes and red onion in a large bowl.
For the vinaigrette, whisk together the garlic, oregano, mustard, vinegar, salt and pepper in a small bowl. Still whisking, slowly add the olive oil to make an emulsion. Pour most of the vinaigrette over the vegetables and toss lightly. Set aside for 30 minutes to allow the flavors to blend.
Add the creamy feta, scallions and olives tapenade on top immediately before serving. Garnish with croutons and flat parsley. Drizzle the rest of the vinaigrette around each serving of salad, and serve at room temperature.
Enjoy!