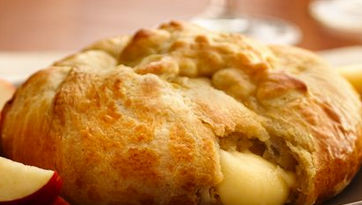 Here we are – New Year's Eve and we decided that instead of making a full meal that we would just have a wine and appetizer party ! When we were trying to decide what to make Baked Brie came up so we are trying it out ! Bake the brie until it has thoroughly melted inside and you will find that it is one of the tastiest appetizers.
Baked Brie Recipe
Ingredients
1 package Pillsbury crescent rolls (refrigerated section)
1 brie wheel
1 jar raspberry preserves or a raspberry topping (found in the deli section)
1 teaspoon Maple syrup
Directions
1.  Preheat oven to 350 degrees F.
2. roll out crescent rolls into one big sheet of dough
3.  put brie wheel in middle
4.  Add a couple spoonfuls raspberry preserves on top of the brie wheel and spread around
5. Add the teaspoon of maple syrup
6.  pull crescent rolls around wheel at top covering entire brie wheel and cut off any excess
7.  Bake according to crescent roll directions and pull out of oven when dough is cooked- no more than 20 minutes.