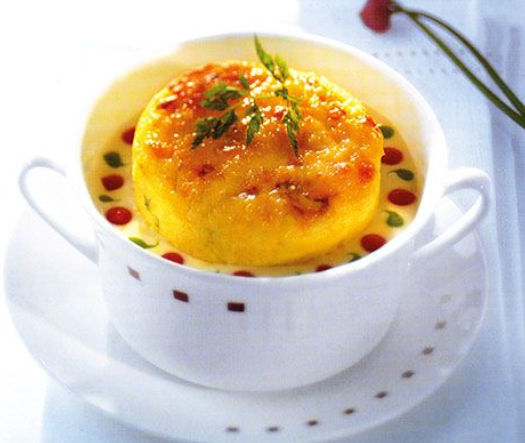 Now you can compare the Princess Cruises Goat Cheese Souffle recipe we posted yesterday, to the Celebrity Cruises Goat Cheese Souffle below – let us know which one you enjoyed more!
INGREDIENTS
3 large egg yolks
3/4 cup whole milk
3 tablespoons butter
3 tablespoons all purpose flour
2 3 ounce logs soft fresh goat cheese, crumbled
3/4 cup freshly grated Parmesan cheese
1/3 cup chopped fresh chives
1/2 teaspoon salt
1/2 teaspoon ground pepper
5 large egg whites
DIRECTIONS
Preheat oven to 375. Butter four 1 1/4 cup souffle dishes. Whisk yolks and milk in large bowl. Melt butter in heavy medium saucepan over medium heat. Add flour and stir 1 minute. Gradually whisk in milk mixture. Continue whisking until thick, about 2 minutes. Return mixture to bowl. Cool souffle base slightly. Set aside 1/4 cup of goat cheese. Whisk remaining goat cheese, 1/2 cup parmesan, chives, salt, and pepper into souffle base. Beat egg whites in another bowl until stiff but not dry. Fold whites into lukewarm souffle base in 3 additions. Divide mixture among prepared dishes. Top with 1/4 cup goat cheese and 1/4 cup parmesan, dividing equally. Bake until puffed and golden, 25 minutes. Set souffle dishes on plates and serve.
Click for more cruise line recipes