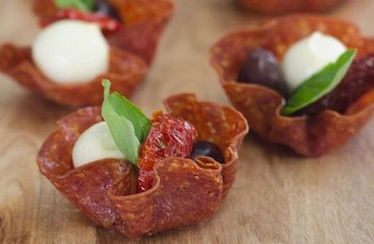 Crispy Salami Chips  Quick & easy appetizer!
Just heat your oven to 375 degrees and place thin slices of deli sliced salami in a single layer and bake for 12 to 15 minutes until crisp. This way you can use them as a cracker or chip, or you can put the 1 salami slice in each compartment of a muffin pan and crisps them so that they look like a small basket.  Transfer to a paper towel to remove excess grease.
Serve on their own as chips, or add a variety of toppings such as your favorite cheeses, Dijon Mustard and fresh herbs, or combine a few toppings such as sour cream & fresh basil or fresh jalapenos & pepper jack cheese.