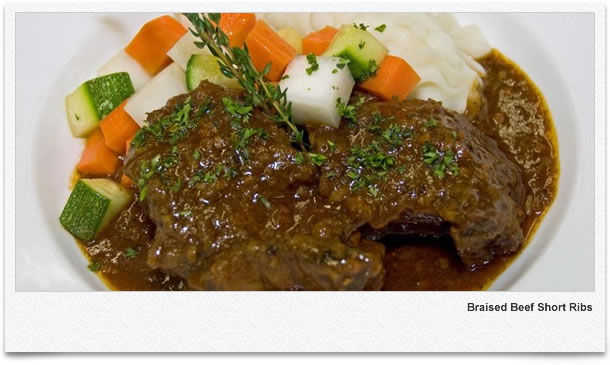 Princess Cruise Line's passion for culinary arts is best expressed in C.H.E.F.S., or Culinary Heritage of Excellence in Food — a Princess tradition of world-class chefs creating exceptional dishes with the finest ingredients. In galleys throughout the ship, teams of chefs, bakers, prep cooks and other staff are hard at work making sauces, baking fresh breads, composing artful presentations on the plate. All so that when you sit for a meal, every sense will be dazzled by authentic tastes and visual magic.
Here is the recipe for Princess Cruise Line's Braised Beef Short ribs.
Ingredients:

Braised Beef Short Ribs
•8 lb. beef short ribs
•3 ½ oz. mushrooms
•2 oz. garlic cloves, halved
•3 ½ oz. leeks, sliced
•4 onions, sliced
•2 stalks celery, sliced
•1 ½ oz. thyme
•1 ½ oz. rosemary
•2 bay leaves
•6 c. beef stock
•Salt and pepper
•2 T. vegetable oil
•3 c. red wine
•½ c. kalamata olives, pitted
•½ c. roasted red pepper strips
Shiitake Glaze
•1 T. olive oil
•1 lb. shiitake mushrooms, sliced
•1 lb. white onions, sliced
•1 oz. sherry vinegar
•¼ c. brown sugar
•1 ½ c. chicken stock
•1 ½ c. veal or beef stock
Method of Preparations for Braised Beef Short Ribs:
Place short ribs in a large container with lid.
Mix together mushrooms, garlic, leeks, onions, celery, thyme, rosemary and bay leaves. Combine the beef stock with the vegetable mixture. Add to container with short ribs. Make sure everything is evenly mixed and marinate for one day in the refrigerator.
Remove the short ribs from the marinade (reserve marinade) and season with salt and pepper. Add vegetable oil to a large, heavy skillet. Sear short ribs in the skillet over medium high heat. Meanwhile, strain reserved marinade through the sieve and reserve liquid.
Remove the seared short ribs from the skillet. Add the vegetables that were strained from the marinade into the skillet to brown for several minutes. Add the red wine to the skillet. Pour reserved marinade liquid into the pan and bring to the boil. Skim the surface. Reduce heat and return the short ribs to the pan. Cover and simmer until tender, about 1 ½ hours.
Remove short ribs from the skillet and keep warm. Measure 2 c. of the sauce from the skillet and place in a separate saucepan. Add olives and bring to the boil. Add red pepper strips.
Method of Preparations for Shiitake Glaze:
Add 1 T. olive oil to a heavy bottomed saucepan. Add mushrooms and brown over medium heat. Remove the mushrooms from the pan and set aside. Add onions to the pan and cook until browned and caramelized.
Add sherry vinegar and brown sugar. Return mushrooms to pan and add the chicken and veal stock. Continue to cook until sauce is reduced to desired consistency.
To serve:
Place short ribs on serving plate. Spoon shiitake glaze over the ribs and garnish with the olive/red pepper sauce.