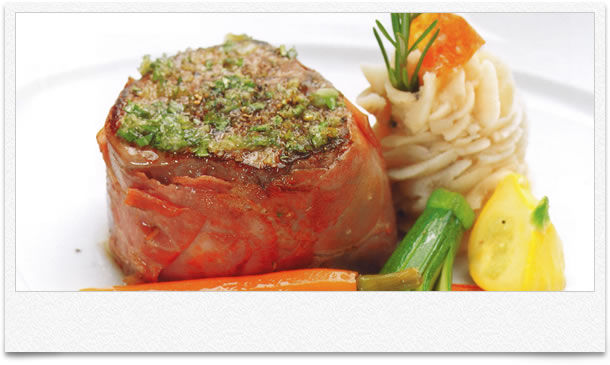 Holland America Cruise Line's Culinary Arts Center program, presented by Food & Wine Magazine, is a groundbreaking program that integrates guests' love for fine food and wine with a unique and entertaining experience. Immerse yourself in the unique traditions and tastes of the ports of call you will visit. Sample fine wines from around the world or learn to make a new gourmet dish in a hands-on cooking class taught by our own Master Chefs or Culinary Guests.
(from A Taste of Excellence Cookbook, Rudi Sodamin)
Serves 4
Ingredients

2 to 3 tablespoons coarsely chopped fresh basil or rosemary leaves
2 medium cloves garlic, crushed
1/3 cup plus 1 tablespoon pure olive oil, divided

4 (6-ounce) filet mignon steaks (each about 1½ to 2 inches thick)
½ teaspoon freshly ground black pepper
¼ teaspoon salt
4 very thin slices prosciutto
Proscuitto wraps more easily around a filet than bacon slices, and it helps to protect the meat and add flavor in just the same way. If you like, substitute purchased or herb-infused oil for the olive oil, herbs and garlic. Serve with your favorite mashed potatoes and baby vegetables.
Preparation
Heat the oven to 500°F. In a food processor, combine the basil and garlic. With the motor running, stream in 1/3 cup of olive oil.
Place the steaks on a plate. Reserve 1 tablespoon of the herb and oil mixture in a small bowl and pour the remainder over the steaks and coat all surfaces. Set aside for 15 minutes.
Pat the steaks dry (it's fine if some bits of garlic and herbs remain on them). Sprinkle the steaks with salt and pepper. Wrap each filet with a piece of prosciutto just around the sides or enveloping it completely.
In a large ovenproof skillet (such as cast iron), heat the remaining 1 tablespoon olive oil over medium-high heat. Add the steaks and cook on one side until browned, about 3 minutes. Flip the steaks and place the skillet in the oven. Cook for 3 to 4 minutes for medium rare, or to the doneness desired.
Transfer steaks to a plate and tent with foil; let rest for 5 minutes. To serve, top each steak with some of the reserved herb and oil mixture.