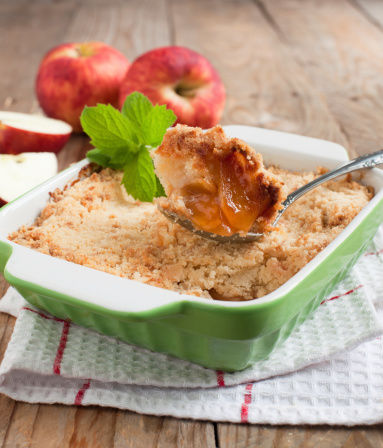 Call it apple crisp, apple cobbler, fresh apple cake or apple dump cake – this is one of the easiest and most delicious recipes you can make for fall. The house will smell amazing for hours.  I have seen several various where people use canned apple pie filling, as well as other fruits, but here is how we made it.
Here is all of the ingredient you will need:
3 apples (I used 2 honey crisps and 1 gala apple)
1 box yellow cake mix (I used about 3/4 of it)
1 stick of butter
Directions:
Spray a 9x13x2 dish with Pam or line it with aluminum foil for easy clean up.
Preheat over to 375
Slice apples – I left my slices on the large side, but you can dice into small squares if you prefer.
Sprinkle cake mix on top.
Cut butter into small squares and lay on top of the cake mix until you cover all f the apples.
Bake for 40 to 50 minutes until golden brown.
Variations:  You can add cinammon on top prior to baking.  Some people have used different types of cake mix such as spice cake or chocolate cake.  I have seen where people add brown sugar or honey, but this is naturally sweet so I don't think you need it.  Top with pecans or walnuts if you'd like.  I am also going to try adding oatmeal as a topping instead of cake mix to see how that turns out.