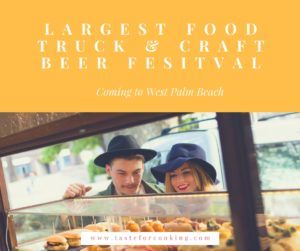 On February 25 the largest touring food truck festival will be making its way to West Palm Beach. Food Truck Festivals of America (FTFA,) was founded back in 2012 and this year will kick off its tour in West Palm. Throughout its existence it has created 60 different festivals. Because of the festival's success, many of the food trucks that have participated in the past have been able to open actual restaurants because their food has become so popular among attendees. If you plan on attending the festival, here's what you need to know:
Largest Touring Food Truck Festival Coming to West Palm Beach
Location: The Palm Beach Outlets
General Admission: $5 before the event and $10 on the day of the event
VIP Admission: $20, includes early access, less wait in lines and a free dessert from the onsite VIP food truck. Guests who purchase this ticket will also receive unlimited water and admission to the event an hour before everyone else.
Who Will Be There: So far we know that the following trucks will be participating:
–Hurricane Alley will feature comfort foods and of course, chowder
–Munchies Snack Shack will have classic foods like hotdogs and hamburgers
–Melted Madness will feature both grilled cheese and tomato soup
–Ipek's Wykked Kitchen will have Mediterranean food
There will also be a number of brewery participants where you can sample quite a few different kinds of ale. Beer tickets will be $6 for one beer. A 4 pack of beer tickets will be $20. Beer Lovers Tickets can be purchased online for $18.50 and will include both admission and 3 beers.
The closer we get to the event the more information will be available about what food trucks will actually be there. Unless you purchase a VIP ticket, all food and drinks will need to be bought in addition to admission tickets. Children under 12 will receive free admission and ATMs will be available onsite if you run out of cash and aren't done with your purchases. This is a great event for all those foodies out there that want to try some local fare as well as popular items from other cities.