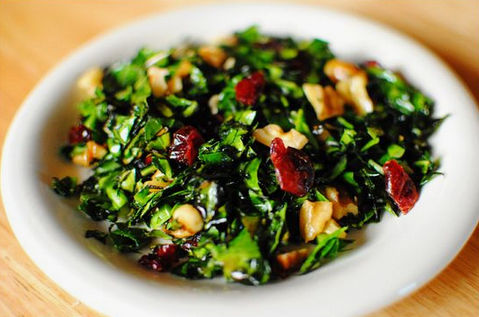 Recipe from my friend at ReneeYemma.com.  Want to add more dark leafy greens to your diet (because you know, they are the number one vegetable that is missing from the Standard American Diet). Well, you're in luck! Here's one of my FAVORITE dishes!  I make it all time, because, not only is it delicious, it's also SO easy!
You can make this dish with any dark leafy green of choice, or you can use more than one dark leafy green at the same time. Sometimes I'll do a mix of collards and kale.  You can also do pine nuts instead of walnuts and raisins instead of cranberries. There really are so many ways to make greens taste delicious.
For amazing step by step instructions with photos visit http://reneeyemma.com/2010/10/collard-greens-with-cranberries-and-walnuts/
Collard Greens with Cranberries and Walnuts Recipe

Ingredients:
1 bunch of organic collard greens (remove stems)
1 handful of organic cranberries
1 handful of chopped raw walnuts
1 to 2 tablespoons of grass-fed butter
Directions:
1. Wash collard greens and then roll and chop.
2. Heat skillet to medium heat.  Once heated, add 1 tablespoon of grass-fed butter.
3. When butter has melted, add collards.  Saute for 5 to 10 minutes, depending on how much you are using.
4. Add in cranberries and walnuts.  Saute for 2 to 4 minutes.
5. Place on serving dish.
6. Turn off all distractions, sit down with your family, take a few deep breaths, say how much gratitude you have for your food and your family and dig in, slowly!
Variations: Pine nuts, pecans, raisins, kale, spinach, swiss chard, broccoli rabe.  You can add in onions and garlic as well.  And, you can use olive oil instead of butter, or do half butter, half olive oil.
©  2010 Renee Yemma ® All Rights Reserved.
Renee C. Yemma, Holistic Health Coach, is founder and director of Get Inner-gized with Renee.  She is a mother, writer, teacher, coach, photographer and so much more.  To receive weekly healthy living articles on loving delicious, nutritious foods and putting YOU first without feeling guilty about it, visit www.reneeyemma.com.