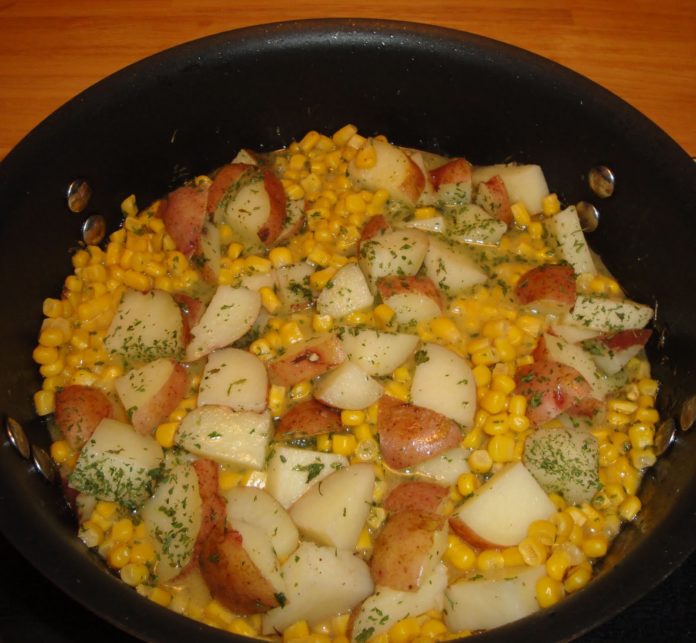 Easy side dishes as always something I am looking for. We have a great recipe for Sweet Corn and Potato Saute! I love the flavor of the sweet corn mixed with the thyme, garlic and butter – take my word this is too easy and good not to try! Enjoy
Sweet Corn And Potato Saute
Ingredients:
2 large potatoes, quartered
1 teaspoon salt
1 teaspoon pepper
1 teaspoon thyme
1 teaspoon garlic powder
1 teaspoon onion powder
2 tablespoons butter
2 tablespoons parsley
1 cup chicken stock
1 (15.25 oz) can sweet corn, drained
extra virgin olive oil
Directions:
In a large skillet, heat olive oil over medium high heat. Add potatoes in even layer. Season potatoes with salt, pepper, thyme, garlic powder and onion powder. Just before potatoes are fork tender, add corn. Stirring frequently for about 2 minutes. Add chicken stock, turn heat to high, and bring to boil, continue cooking for 4 to 5 minutes, until potatoes are fork tender. Turn heat off. Add butter and 1 tablespoon parsley and stir until butter melts. Garnish with remaining parsley. Enjoy!
Copyright 2011 Christine's Pantry. All rights reserved.