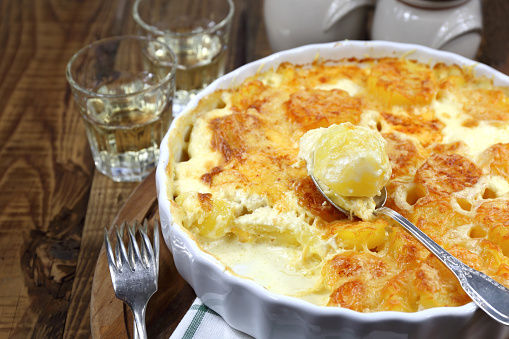 This recipe is compliments of Norwegian Cruise Line and is a favorite of cruisers dining at Cagney's Steakhouse.
Ingredients
Potatoes, Cream, Garlic, Chives, Emmenthal (cheese), Parmesan Cheese, Butter, Salt, Freshly Milled Black Pepper, Nutmeg
2.2 lbs Potatoes, cut into cubes
5.3 cups Cream
2.1 tbs. Garlic chopped
3.5 oz. Garlic cloves whole
1 tsp. Chives, chopped
7 tbs Emmenthal, grated
6 tbs. Parmesan Cheese
2.1 tbs. Butter, unsalted Salt
Freshly Milled Black Pepper Nutmeg
Method of Preparation

Dice potatoes and steam off until cooked.
Allow potatoes to cool at room temperature so they may dry out.
Mix the cooled steam diced potatoes, grated Emmenthal Swiss cheese and toss with salt and pepper.
Mix butter with some chopped garlic.
Butter the gratin dishes with the butter garlic mix.
Place potatoes into gratin dish and fill 3/4.
Boil cream and garlic, then simmer until garlic is soft and mushy.
Blend in mixer until smooth with the garlic and cream.
Season with salt, pepper and nutmeg.
Pour the cream mixture over the potatoes and cover thoroughly.
Proceed to bake in 350º F oven until potato cream mix is heated through.
Top with Parmesan cheese, then continue baking until cheese has melted and cream has slightly browned.
Serve immediately.
More cruise line recipes