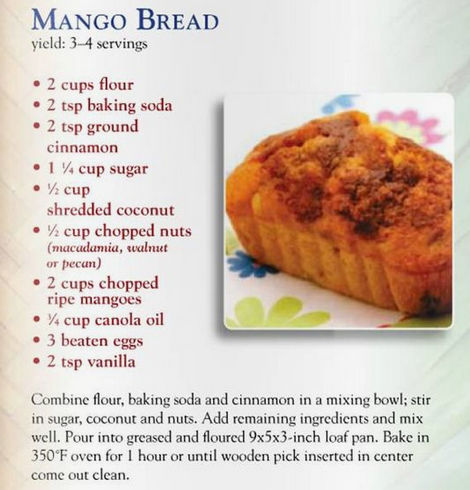 Mango Bread Recipe from the Hawaiian Islands
Considered a "must do" by most is to attend a Hawaiian Luau. Wondering what kind of food you can expect during a Luau in Hawaii? Many foods may seem quite foreign to you.
Below is a look at some of the foods and drinks that you are likely to find at one or more of the luaus throughout Hawaii.
Char Siu: These delicious rich, red spareribs are a favorite thanks to the Chinese immigrants of Hawaii.

Chicken Lu'au:  A Hawaiian classic made with chicken cooked with taro leaves (or spinach) and coconut milk.
Kim Chee:  Great as a dip for pupu's (appetizers) or a stand-alone side dish, Korean style Kim Chee is made of fresh island cabbage, chili peppers, ginger, garlic, and other seasonings.
Kalua-style chicken, pork or turkey:  Meat that is cooked for long hours wrapped inside banana, ti or luau leaves.  The long cooking time allows the meat to come out tender, juicy and full of flavor.
Kalua pua'a: Roast pork, as its prepared in the Hawaiian imu or underground steam oven. Kalua pig is traditionally seasoned with sea salt and sometimes green onions.
Poi : Traditional Hawaiian staple made by pounding boiled taro roots and mixing with water until it reaches a smooth consistency.
Poke: Raw fish marinated in lemon or lime juice with other condiments and a little coconut cream.
Mai Tai:  The Mai Tai is an alcoholic cocktail that has become synonymous with Hawaiian sunsets and lounging in hammocks. It is a mix of Jamaican rum and lime juice, garnished with fresh mint. Blue Hawaii's, Lava Flow's and other tropical drinks are very popular as well.
Breads & Cakes: Fresh baked breads, pastries and cakes made with island fruits such as mangos, guava, coconut and ripe bananas.
Planning on taking a Hawaii tour, cruise or vacation?
We've included a recipe below for tasty Mango bread.
Mango Bread Recipe:
Version is prepared from a recipe by Hawaii's most famous chef, Sam Choy.
Ingredients:
2 cups flour, sifted
2 teaspoons baking soda
1 teaspoon cloves
1 teaspoon allspice
1 teaspoon salt
1 cups sugar
3 eggs
1/2 cup melted butter
3/4 vegetable oil
2 cups partly mashed, partly diced mangos
1/2 chopped macadamia nuts

Preparation:

Preheat oven to 350 degrees.   Grease and flour two loaf pans.  Combine all dry ingredients. Beat eggs. Add oil and butter and beat for approximately 2 minutes.Add dry ingredients and mangoes. Add nuts. Bake 45-55 minutes.
We'd love to hear your suggestion of other foods to add to our list, as well as recipes on your favorite Hawaiian Luau foods. We look forward to reading your comments! Planning on taking a Hawaii tour, cruise or vacation?