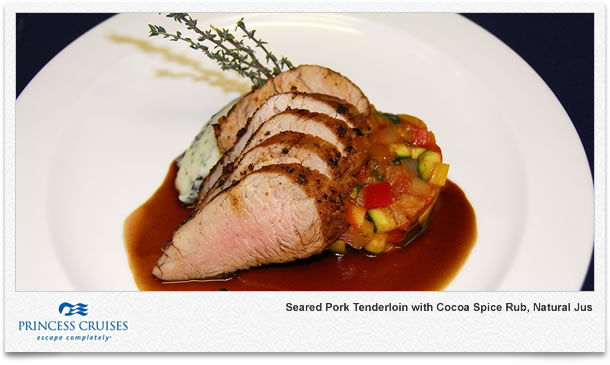 Experience the delicious difference of Princess dining. At any given moment on any Princess voyage, there is a culinary production under way behind the scenes. In galleys throughout the ship, teams of chefs, bakers, prep cooks and other staff are hard at work making sauces, baking fresh breads, composing artful presentations on the plate. All so that when you sit for a meal, every sense will be dazzled by authentic tastes and visual magic. For more Cruise Line Recipes visit our special section. Other Popular Cruise Line Recipes are Seafood Bouillabaisse Recipe :: Cunard Cruise Line and Braised Beef Short Ribs Recipe from Cunard Cruise Line
Ingredients

2½ lbs pork tenderloin, trimmed and silver skin removed
2½ oz cracked black pepper
2½ oz salt
2½ oz caraway seeds
2½ oz coriander seeds
1 ea star anise
¾ lb flour

3 tbls olive oil
2 oz cold butter cubes
8 fl oz natural pork jus
2/3 lb Ratatouille, prepared
2/3 lb Truffled mashed potatoes, prepared
6 ea Thyme sprigs, picked, washed and on ice
Preparation:
Place the caraway seeds, mustard seeds, coriander seeds, and anise seed in a dry pan and dry roast until golden. Cool slightly and place in a blender and grind down to a powder. Add this mixture to the salt and cracked black pepper. Add all of this to the flour and mix well.
Lightly roll the pork tenderloin through the spiced flour. Dust off all excess flour.
Heat oil in a heavy based sauce pan and add the butter.
Sear the pork tenderloin until well browned on all sides basting well with the oil and butter. Remove from the pan. Place on a roasting tray and into the oven at 275F for about 35 to 40 minutes. Remove from the oven and allow to rest before carving.
Use a large spoon and place a quenelle of truffled mashed potatoes as shown in the picture. Using a plating ring or cookie cutter place ratatouille as shown in the picture.
Carve pork tenderloin, arrange as shown and add sufficient pork jus to accompany meat. Refer to the picture for guidance.
Garnish with thyme sprig.
Post is from Atlas Cruises and Tours – Travel Blog
http://blog.atlastravelweb.com/special-interests/recipes/princess-cruise-line-recipe-for-pork-tenderloin-with-cocoa-spice-rub/